The world of ecommerce has been evolving at a breakneck pace, and the latest buzzword in the industry is "headless commerce". In this blog, we'll provide an introduction to headless commerce, what it is, and how it differs from traditional ecommerce platforms. Also, we will discuss the benefits and re-platforming checklist.  
What is Headless Commerce?  
Headless commerce is a new way of building ecommerce platforms that separates a website's front-end and back-end functionality. With headless commerce, the front-end, or the presentation layer of an ecommerce website, is decoupled from the back-end, or the business logic and data layer. This separation allows for greater flexibility and customizability in designing the user interface and the ability to integrate with a wide variety of third-party applications.  
On the other hand, traditional ecommerce platforms have a tightly integrated front-end and back-end. In this model, the front-end code and the back-end code are intertwined, making it difficult to make changes to either side without affecting the other. This can result in slower innovation, limited customization options, and difficulty integrating with external systems.  
What are the elements of headless commerce? 
The frontend (display layer) and backend (business logic) layers of a system are separated by headless commerce architecture. It incorporates a variety of solutions as part of a wider composable commerce approach: 
Frontend as a Service (frontend architecture),  

a headless commerce platform,  
a headless CMS,  
search and payment solutions, and more.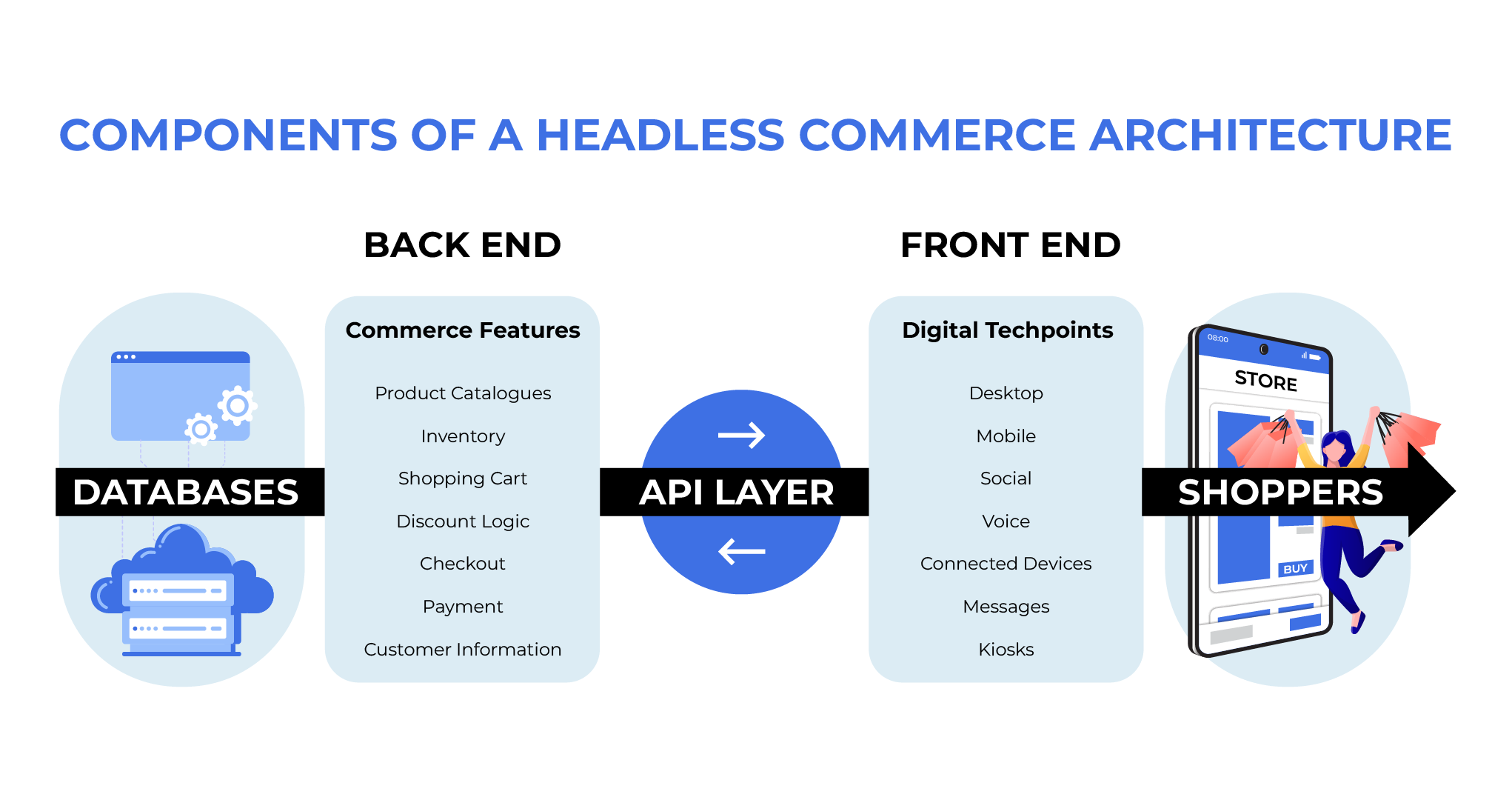 How does Headless Commerce Work? 
In a headless commerce architecture, the front-end and back-end are separated, allowing for greater flexibility in designing the user interface. The front end is built using a modern web development framework, such as React or Angular, while the back end is built using an API-driven approach. The API acts as a bridge between the front-end and back-end, allowing them to communicate with each other and exchange data.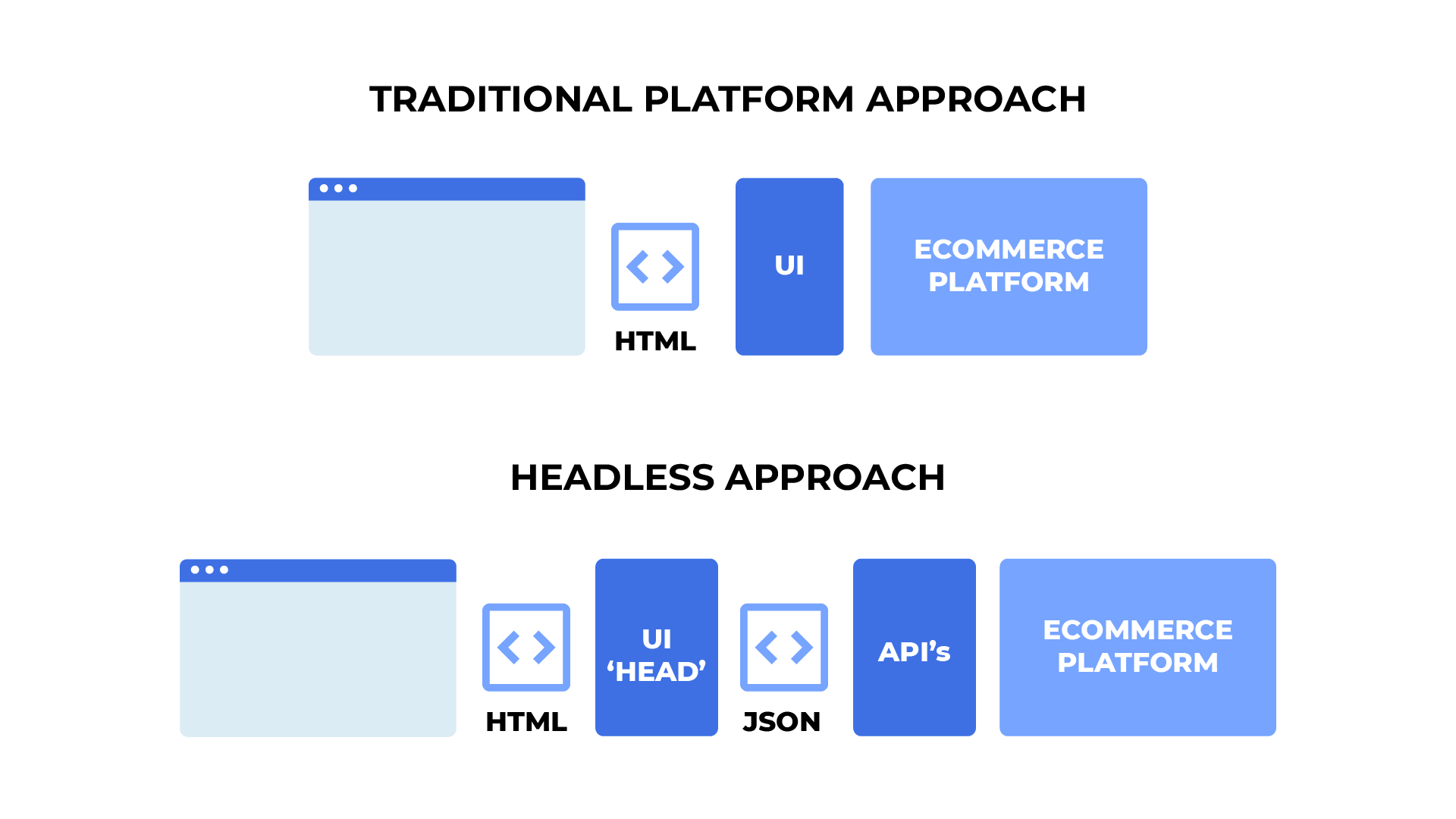 For example, a headless commerce platform might use an API to retrieve product data from the back end and display it on the front end. The front end would then use this data to display the product information to the user. This approach allows for more modular, flexible, and scalable applications that can be adapted to a wide variety of use cases. 
How does Headless Commerce differ from traditional commerce?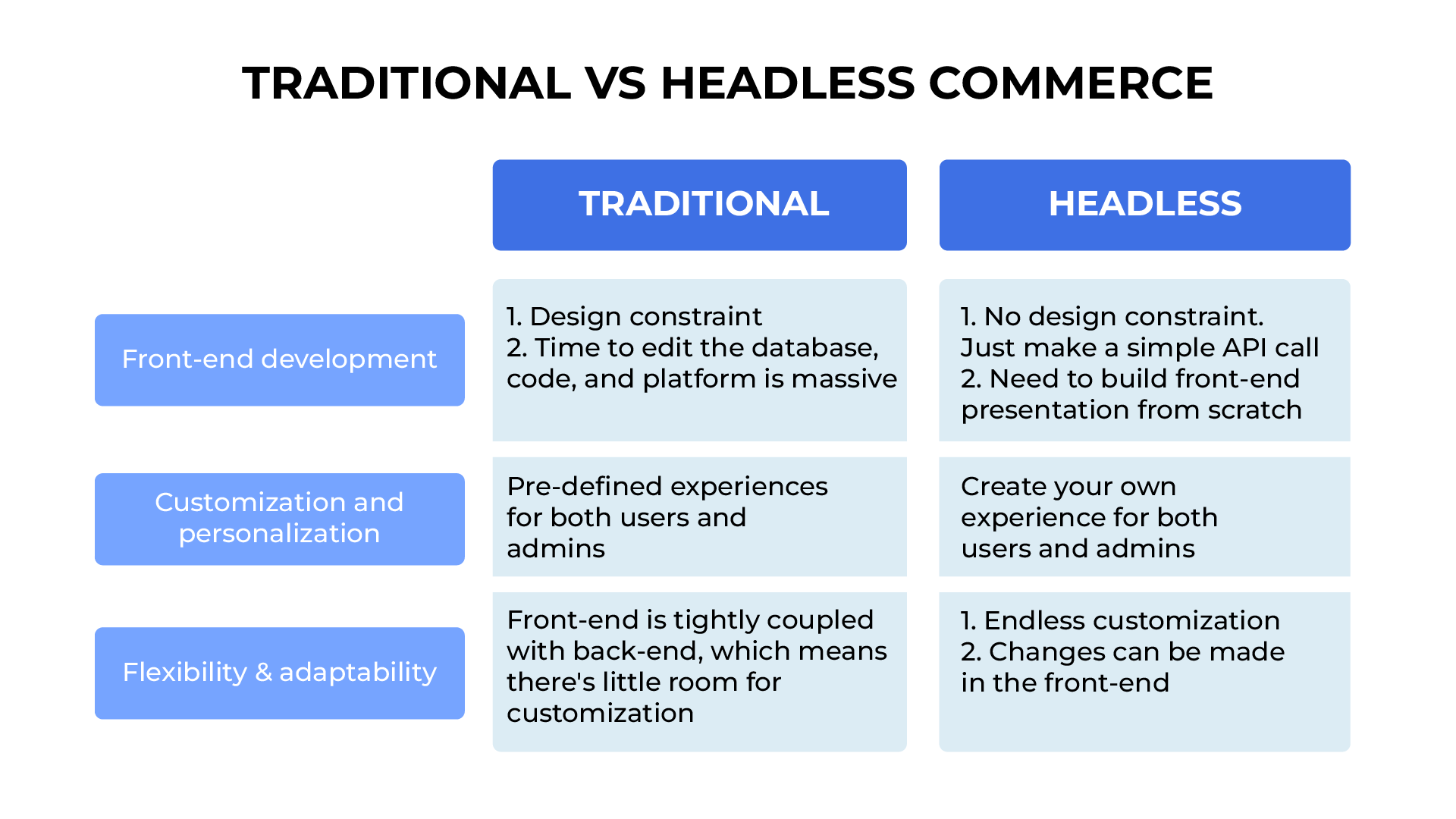 Headless commerce offers several benefits over traditional ecommerce platforms: 
Flexibility: With headless commerce, the front end can be customized to fit any design or user experience, allowing for greater flexibility and creativity in website design. 
Speed: The decoupled architecture of headless commerce allows for faster development and deployment of new features, making it easier to keep up with changing consumer demands. 
Scalability: Because the front-end and back-end are decoupled, headless commerce platforms can easily scale to handle high traffic and complex workflows. 
Integration: Headless commerce platforms can easily integrate with third-party applications, such as payment gateways, shipping providers, and marketing tools, allowing for a more comprehensive and customized ecommerce solution. 
What are the Best 10 headless commerce platforms available in the market?
With 5 billion internet users worldwide, online retail revenues will top $5.2 trillion in 2021-22. According to projections, online will account for 24% of global retail sales by 2026. Today's market is flooded with headless ecommerce systems, making it difficult to select the one that best meets your company's needs.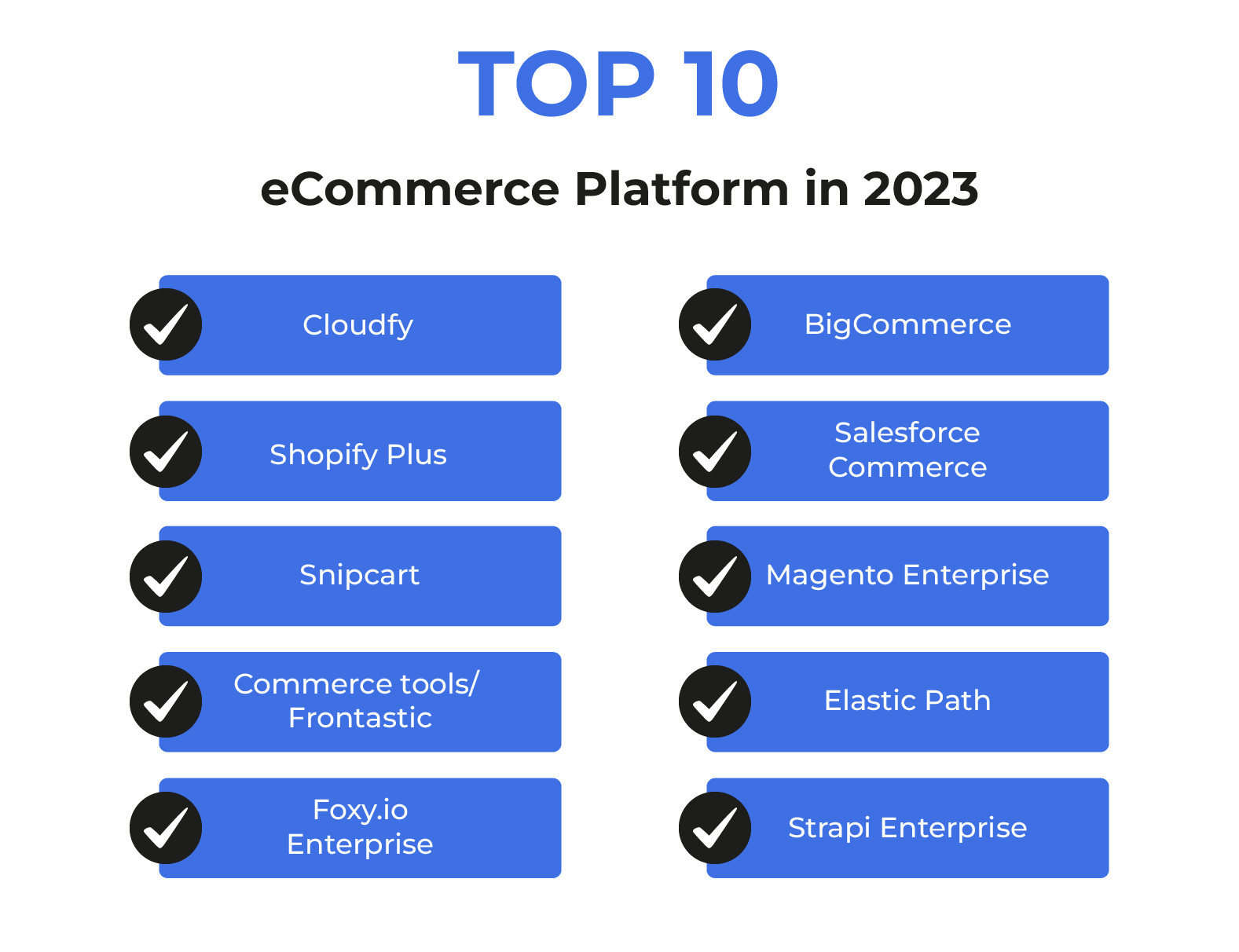 Cloudfy stands out as one of the best ecommerce platforms on the market due to its exceptional scalability and ease of use. It offers a range of features that make managing and expanding your online business a breeze, including advanced customization options and seamless integration with your existing systems. With Cloudfy, you can be confident that your ecommerce operations will run smoothly and efficiently, regardless of the size or complexity of your business.
What is a re-platforming checklist for going from a traditional platform to a headless commerce platform?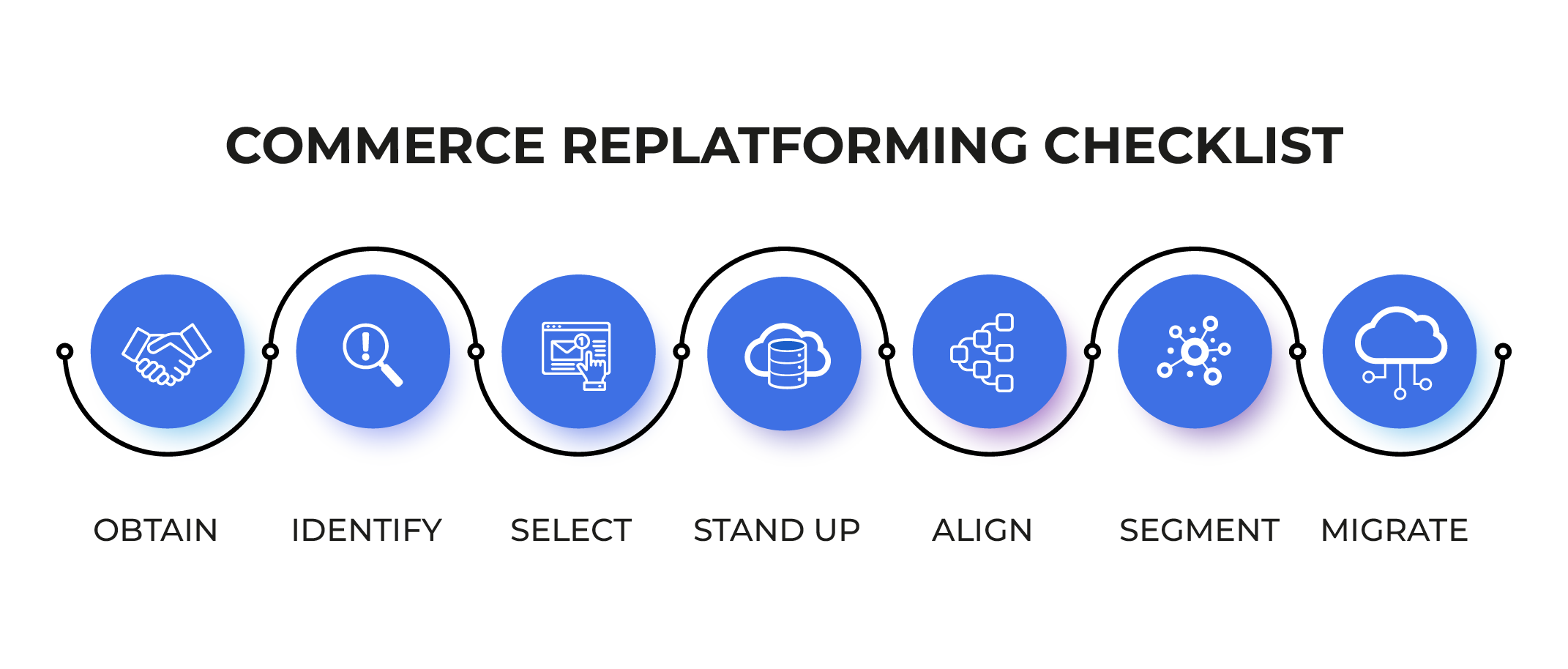 Headless commerce is the future of ecommerce, offering a more flexible, scalable, and customizable approach to building ecommerce platforms. While it may seem daunting at first, the benefits of headless commerce far outweigh the challenges of implementing it. By separating the front-end and back-end, businesses can create a truly unique ecommerce experience that caters to the needs of their customers.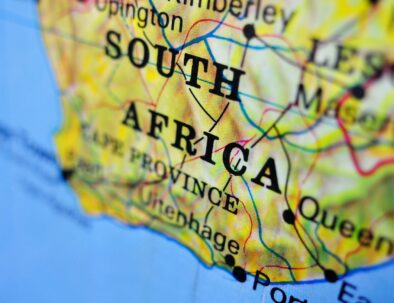 In recent years, the world of business-to-business (B2B) commerce has undergone a remarkable transformation, and South Africa is no exception. As the digital revolution continues to shape industries across the globe, B2B ecommerce is emerging as an important force, redefining … Read More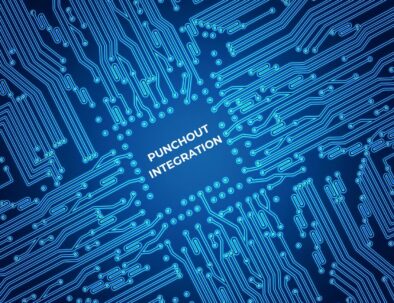 E-procurement strategies are evolving and PunchOut catalogs are becoming essential sales tools. It's fast and efficient, minimizing manual data entry, saving time and reducing errors. Your customers view your catalog, pricing and discounts from their own procurement system and select … Read More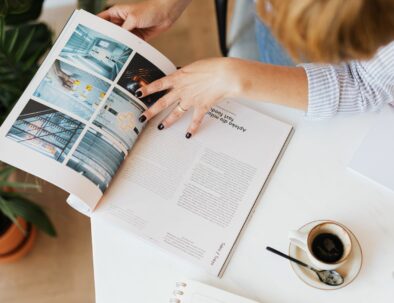 Cloudfy Insider: Uncover all about B2B ecommerce platform Cloudfy Our magazine is dedicated to sharing exclusive insights, expert tips, and in-depth details on everything we offer. Stay ahead of the competition and unlock the secrets to success with Cloudfy Insider.