Progressive web apps (PWAs) are websites that deliver a mobile app experience without the need to install an app.
They use modern web browser capabilities, application programming interfaces (APIs) and AMPs (Accelerated Mobile Pages) to deliver a fast and seamless experience across all devices. PWAs can even be saved on the home screen of mobile devices without visiting an app store.
Ecommerce businesses that have created mobile-first PWAs have seen much faster page load times, improved engagement and better conversion rates. For example, the Forbes mobile browser experience took an average of three to 12 seconds to load. The Forbes PWA takes less than one second and has delivered a 43% increase in sessions and a 100% increase in engagement.
PWAs are proving popular in the business to consumer (B2C) environment, but will they work as effectively for business to business (B2B) companies?
Are PWAs the future?
Gartner predicts that PWAs will provide the bridge between web experiences and mobile app functionality. Some organizations have already decided that PWAs are a better solution than maintaining a website and one or more mobile apps.
With more than half of online traffic coming from mobile devices, delivering the best possible experience is becoming an urgent priority. For business to business (B2B) companies that don't currently have a mobile app to complement their ecommerce website, PWAs could be the next logical step.
Features of PWAs
There are three distinctive features that make PWAs attractive.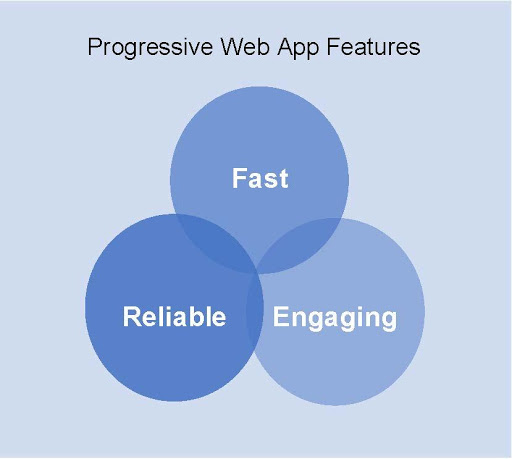 Reliability – When launched from a user's home screen PWAs load instantly, regardless of the network state. By caching key resources and helped by service workers (background scripts to support offline activity) PWAs aren't dependent on network availability and can deliver fast and reliable experiences for users.
Speed – Google says that over half of users (53%) will abandon a site if it takes longer than three seconds to load. PWAs load quickly and can meet users' expectations for smooth and fast responses.
User engagement – PWAs offer an immersive full screen experience and can deliver push notifications. Thanks to their web app manifest, the way they launch and appear can be defined, right down to their home screen icon, launch page, and screen orientation.
Benefits of PWAs for B2B buyers
PWAs use cached data to update content and send push notifications without the need to collect email addresses or ask permission to use them. Google says that six out of 10 users will give permission for PWAs to send notifications.
They are designed for mobile screens, so they respond quickly to swipes and taps rather than substitute 'clicks'. Visually they are impressive too. With smooth animations and easy page scrolling they can deliver really immersive experiences.
Because PWAs are browser based, they work on all devices. Users can just visit the page. Responding to a simple prompt will place them on their home screen where they will look like a native app. Updates are easily implemented on the website so users don't need to take any action to stay up to date.
Benefits of PWAs for B2B businesses
PWAs don't have to be built as a separate mobile app and don't need to be hosted in app stores. This means that they can be developed and implemented quickly and cost effectively.
Unlike mobile apps, web based PWAs can be discovered by the search engines, links to their content can be shared, and they can be ranked by Google and Bing.
Fast page loading times, reduced bounce rates, low data use and engaging experiences that lead to longer dwell times all add to the search engine performance of your site.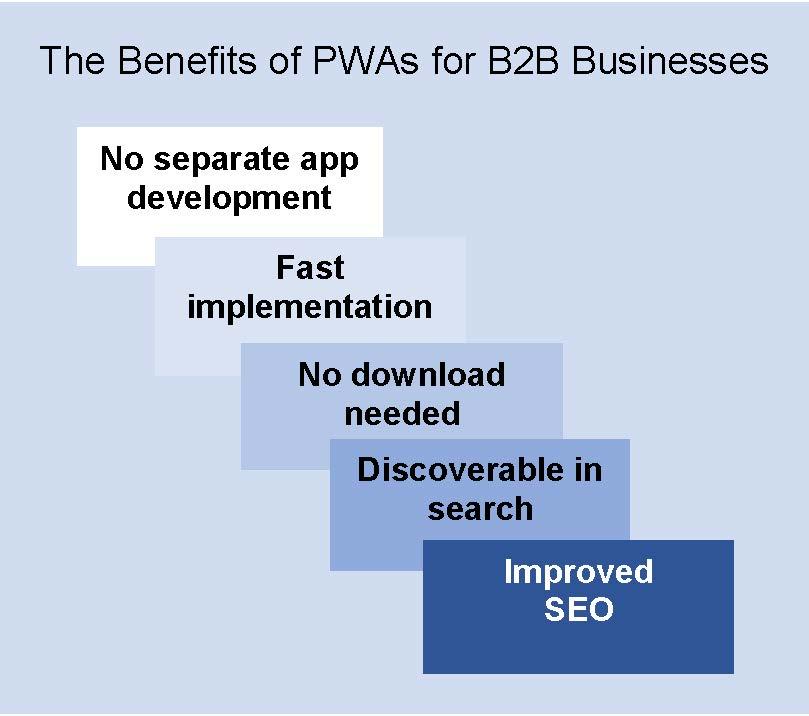 PWA technology
Well-designed PWAs can improve overall performance in search rankings. Security, a responsive design and fast page loading time all improve user experiences and contribute to the technical search engine optimization (SEO) for your website.
New features and functionality can be deployed straight away and, because buyers always have the latest version, customer support inquiries can be reduced. 
Because PWAs are built using the latest web protocols, they also offer excellent security compared to many mobile apps.
PWAs can eliminate the need for development teams to design and build separate iOS, Android and even Windows 10 versions of their native applications, which can be costly.
Building PWAs
To build and maintain a PWA your site's static content needs to be separate from the dynamic content.  The app shell architecture has the core elements of the design needed to allow PWAs to run without a network connection.
Application programming interfaces (APIs) can be used to reduce the amount of data sent to the user's device. This places the emphasis on the customer's experience, which is separate from the background business information.
For example, a product listing might load the first ten products only, with more products loading as the user scrolls down, in a similar way to Facebook. Less data needs to be sent to the server at any one time, improving the speed of response.
This separation between the user interface and back office systems means that user experiences can be revised and tested more quickly and with less risk.
Is a PWA the right choice for your business?
The content management system for your current ecommerce platform might not offer PWA functionality. If this is the case, a review of your strategy, plans, and preferred platform might be needed.
If you have a relatively small number of stock keeping units (SKUs) and your buyers know exactly what they want with very few customization requirements, then moving to a PWA might not be an urgent priority.
Developing a PWA solution
If you can realize benefits from fast-tracking your online offer, then your PWA starting point should be your buyers' requirements.
You have an opportunity to combine the best of the web and app worlds to deliver the features and functions your buyers are looking for and to gain a competitive advantage.
It's also an opportunity to review your ecommerce strategy, placing your customers right at its core.
Talk to one of our experts to find out more about the power of PWAs for your business.