When you're looking for an effective B2B ecommerce software as part of your plans for digital transformation the range of choices can be challenging.
Choosing an ecommerce platform is a difficult decision. Furthermore, when your business grows and expectations expand, the ecommerce platform you choose may no longer meet your objectives. In such cases, firms must carry the weight of platform transfer, which is time-consuming and fraught with complications.
As a result, it is preferable to forecast your future company demands early on so that the platform you select can meet them all – conveniently and inexpensively. To make an informed selection, you must examine many elements, benefits, and features of each eCommerce platform, as well as setup costs, simplicity of use, support availability, security, flexibility, and a variety of other factors.
One question you will face is whether a software-as-a-service solution or an open-source option will be better for your business.
While the debate over Open Source vs. SaaS has raged on for far too long. People nowadays are savvy and want to evaluate many platforms before deciding on the one they desire.
Confused while making your choice?
Your long-term business goals, existing business systems, in-house expertise, and your budget will all affect your decision.
For either approach, there are a number of important considerations that can affect your business. They include:
Time to market

Maintenance and support

Security and payment card industry (PCI) compliance

Customization and flexibility

Integration with existing business systems

Total cost of ownership
What is a SaaS ecommerce platform?
For a SaaS solution you will pay for a license, normally on a subscription basis. You won't buy the software outright or install it on your own servers. Instead, it will be hosted and maintained in the cloud by your provider and your users will access it via their web browsers.
For many businesses this is a good option because the provider builds, hosts and maintains the software. They will be responsible for security upgrades and improvements that can all be deployed in the cloud. However, you won't have access to the source code. Some companies with specialized requirements might feel that this limits their ability to tailor their ecommerce platform to meet their requirements and to innovate.
Examples of SaaS solutions include Cloudfy, Shopify Plus , and BigCommerce.
What is an open-source ecommerce platform?
Open source ecommerce software allows you to download the source code without charge which you can then view, change, and use as you wish. Because of this widespread availability, it is developed by multiple users in a collaborative way. This means there's a large community of people with expertise to create new applications. While the open source code is free to download, you will need to host, manage and maintain your application.
If you want specific functionality, you can build it yourself, work with a third party, or look around the community of users to see if a solution is already available. Businesses that are looking for customization and flexibility often find this an attractive option.
Examples of open source ecommerce software include Magento 2 Open Source from Adobe, WooCommerce, which is an ecommerce plug-in for WordPress, and OpenCart.
What are the important areas to compare while choosing Open-source or SaaS solution?
SaaS and open-source platforms are fundamentally distinct types of software. The design of each platform influences your software experience and how you manage your business. The following are the important areas to compare:
SaaS platforms are hosted in the cloud with 'out of the box' ecommerce features, security and customizable themes, You don't need specialist experience or expertise and you can create a functioning site and be ready to launch in a matter of weeks rather than months or years.
Once you have downloaded open source code and acquired any add-ons you need, which will vary in price, the next step will be to create your ecommerce site and set up hosting and security. If you have in-house expertise, the time to launch your site will be under your control. However, you will need to be very clear about your requirements and, if you're working with a third party, the specification process can be time-consuming and could be costly.
Ongoing maintenance for your SaaS ecommerce platform is in the hands of your provider and will be covered in your subscription. Hosting, monitoring, technical compliance, upgrades and security patches will all be taken care of for you. Your provider will also be responsible for site performance and server issues. If something is causing a problem you will have someone to call.
Maintenance and support for your open source platform will be your responsibility, alongside any third parties you work with. This will include the performance and speed of your technical infrastructure and administration, hosting, software upgrades and updates. If you have multiple extensions and plug-ins for your site you will need to track down the cause of any problems and will ultimately be responsible for finding a solution.
Cybercrime has increased dramatically so ecommerce sites must be constantly checked for vulnerabilities to safeguard your data and your users' sensitive information, especially payment details.
SaaS software providers will look after security and PCI compliance for you. If you choose the open source route you will be responsible for maintaining standards and implementing the latest patches or fixes.
| Choose Open Source Platform If | Choose SaaS Platform If |
| --- | --- |
| You need your own development roadmap with multiple integrations for your unique products. | Customers don't want to be involved in extensive features & functionalities and they do not have many unique products or external integrations. |
| You want to share profit per scale and do not want to pay annual rental fees. | You are cost-conscious about your business and have a low IT budget as well focuses more on the stabilization of the business. |
| Improving and innovating your customer experience is your goal to gain a competitive advantage. | Your business is in the startup and expansion phases of growth, typically in its first 3 years. |
| You want to own your customer's data and hosting. | You need an eCommerce business model that has a very straightforward cost and implementation process with a platform that is completely managed by the service provider. |
Customization and flexibility
Every ecommerce business wants to provide unique customer experiences so you will be looking for more than standard ecommerce features.
You will be able to tailor your site's theme, product descriptions and checkout to suit your style and branding whichever option you choose. Beyond this, your requirements will govern which solution is best suited to your business.
A SaaS platform is easy and quick to implement because it comes with a lot of pre-built ecommerce functionality and, in most cases, will have an app marketplace for extensions and plug-ins such as marketing and customer retention programs for example.
However, if you need highly customized features, bespoke themes and control over performance you might feel the SaaS environment lacks flexibility. The alternative might be to turn to the large and experienced open source developer community and pre-built extensions to create a bespoke solution or to set-up your own in-house development team.
Delivering the high levels of personalization and overall user experience expected by digitally native customers will often rely on your ability to integrate your ERP systems with your ecommerce platform. Buying histories, favorites lists, stock availability and delivery details are just a few of the features your customers will expect.
Secure and seamless access to single sources of information in your enterprise (ERP) system alongside point of sale (POS) data, inventory management, product information management (PIM), and third-party logistics (3PL) systems will allow you to meet these expectations with confidence.
Even if this isn't an immediate requirement for your business it will be a consideration in your choice of platform. The key to success is the availability of powerful application programming interfaces (APIs) and the expertise to use them effectively.
If you have a heavily customized open source site you might find it difficult and expensive to achieve the seamless integrations you need as your business grows.
The equation for total cost of ownership isn't simple and will need to be offset against the impact of control and customization for your overall business performance.
A SaaS ecommerce platform can be yours for a monthly subscription which could be affected by the complexity of your application, number of users, and the volume or value of sales. Depending on your choice, you might also work with your provider or a third-party agency to implement or manage all or part of your solution which will add to your overall costs. You might also want to use additional apps or extensions to deliver the right level of customer service, along with any required system integration.
SaaS ecommerce platform providers host and maintain many sites which means that the baseline cost of your site can be lower over time and it will be a known cost to your business.
While you can freely download the code for an open source ecommerce platform you will need to invest time, resources and money to create a functioning online store to meet your needs. Depending on your requirements, apps and extensions can also represent a significant cost along with any business system integrations you need. You will be responsible for making it all work together. You will also pay for hosting and, as your business grows, this cost is likely to increase to support extra traffic. You might need some bespoke development skills and you will also need resources , internally or externally, to maintain security, compliance standards, updates and patches.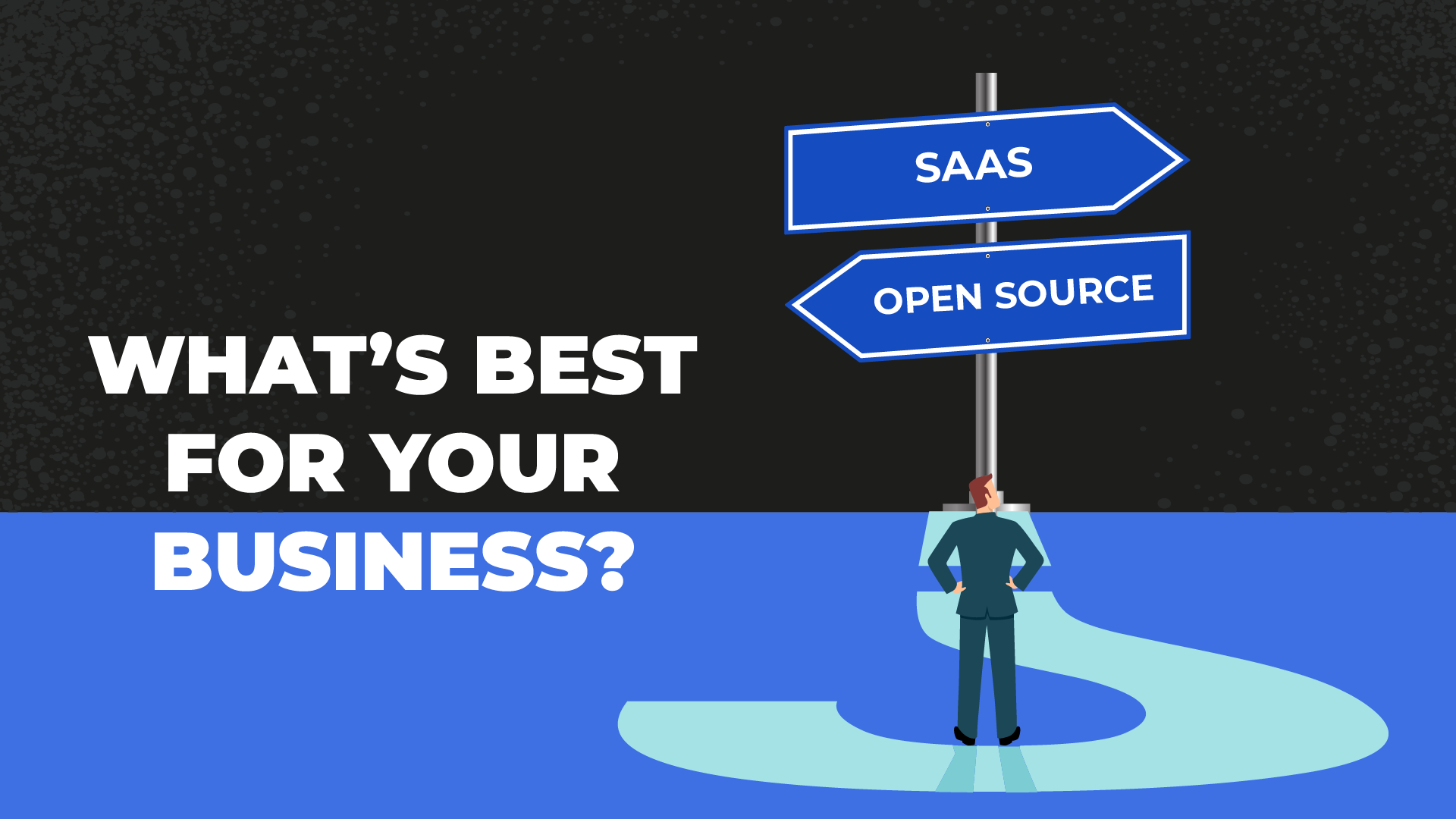 How can you Make an informed choice?
Ultimately, the choice between SaaS and open-source depends on your specific requirements, resources, and long-term goals. SaaS solutions are generally easier to implement and maintain, offering convenience and scalability. Open-source solutions provide more flexibility and customization options but require additional technical expertise and ongoing maintenance. Consider your budget, technical capabilities, desired level of customization, and long-term business strategy when making this decision.
Before making your final decision, you will want to review the best options available to you. We strongly recommend finding out more about Cloudfy as a SaaS solution with extensive B2B ecommerce functionality and a powerful API for all your integration needs. 
Book a free Cloudfy demonstration today to find out more.
What is the difference between SaaS and open-source ecommerce software?
SaaS (Software-as-a-Service) ecommerce software is hosted and maintained in the cloud by a provider, accessible through web browsers. On the other hand, open-source ecommerce software allows you to download the source code and customize it as needed but requires hosting and maintenance on your own.
Which factors should I consider when choosing between SaaS and open-source for my B2B ecommerce platform?
Key considerations include time to market, maintenance and support, security and compliance, customization and flexibility, integration capabilities, and the total cost of ownership.
What are the advantages of SaaS ecommerce platforms?
SaaS platforms offer ease of implementation, pre-built ecommerce features, security, customizable themes, and often come with an app marketplace for additional extensions and plug-ins. Maintenance and security upgrades are handled by the provider.
What are the benefits of open-source ecommerce platforms?
Open-source platforms provide greater customization and flexibility, allowing you to tailor your ecommerce site according to your specific requirements. There is a large community of users and developers who contribute to the development of new applications.
How should I make an informed choice between SaaS and open-source?
Consider your budget, technical capabilities, desired level of customization, and long-term business strategy. Assess the pros and cons of each approach and evaluate how well they align with your specific requirements and goals. You can book a demo with Cloudfy to know more!