Electronic data interchange (EDI) digitizes and simplifies business document transfers. That's why over seven out of 10 business to business (B2B) digital transactions use EDI to maintain supply chain visibility. This is especially relevant for complex operations in the fast moving consumer goods (FMCG) sector.
An EDI Managed Service provides all the experience, skills and infrastructure you need to deliver effective EDI. You won't have to invest in the detailed processes, hardware, software and maintenance needed for an in-house solution. Combined with your B2B ecommerce platform you'll streamline and simplify your business operations, save money and improve customer satisfaction.
As an FMCG supplier you must coordinate detailed requirements with busy store managers and ordering clerks. Your customers want fast and easy purchasing at convenient times.
Cloudfy's simple ordering solution is ideal for meeting their expectations and managing the tight margins typical in your sector. Our purpose-designed B2B ecommerce software makes it easy for clients and sales teams to place and fulfill high-frequency, high-volume orders.
With Cloudfy's integrated ordering feature you don't need customization or a plug-in for full EDI integration. You'll have direct AS2 ordering for your EDI-enabled customers. You can securely transfer sensitive documents in an encrypted environment with digital certificates
In the 1960s EDI allowed cargo tracking via radio, teletype, and telephone. Businesses quickly realized its potential to transmit critical documents securely. EDI has been replacing complex, paper-based processes like exchanging purchase orders and invoices ever since.
EDI improves communication and processes between businesses in several ways.
Full transparency form end to end of the ordering process improves relationships and supports informed decisions.
Improved accuracy through reduced manual data entry avoids costly misunderstandings and delays.
Automated communication in real time delivers faster processes and better outcomes.
To enable cross-border business-to-government procurement a Pan European Public Procurement Online (Peppol) standard was launched in 2019. Peppol is becoming widely used for cross-sector B2B ecommerce transactions around the world. Other standards bodies also continue to evolve B2B ecommerce data specifications such as ANSI X12, UN/EDIFACT and UBL XML.
Increasing standardization of electronic data simplifies international tax compliance. It also helps to meet increasing demands for retaining invoice data and quality assurance for data validation and integrity.
Combining EDI with application programming interface (API) capabilities supports flexible B2B ecommerce integration internally and with partners throughout the supply chain. Further into the future you might see convergence with the Internet of Things, the blockchain framework and artificial intelligence.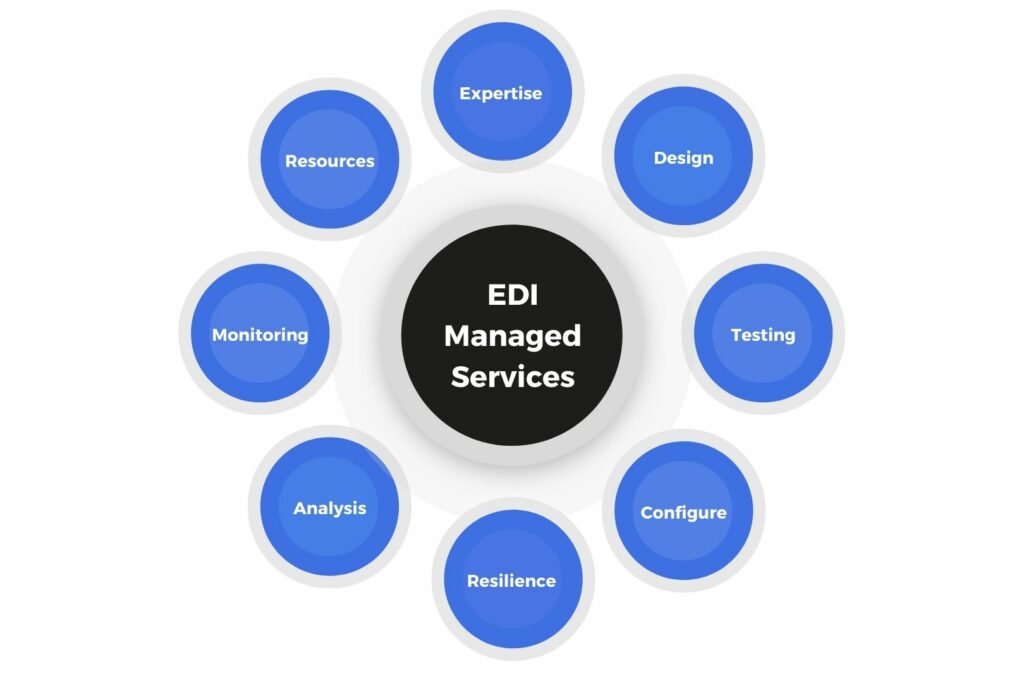 Benefits of an EDI Managed Service
Lacking resources to scale and effectively maintain EDI is one of the largest obstacles to sales growth for expanding FMCG businesses. Typically, each customer has their own distinct EDI requirements, from the EDI standards they use to the data formats they prefer. Responding to changing customer requirements leads to constant refinements that create bottlenecks in the EDI process.
An EDI Managed Service can streamline customer onboarding and simplify implementation. Management and maintenance of your EDI system, including trading partner management and data integration is handled for you.
You'll minimize your investment in hardware, software and communications infrastructure. With experts monitoring your EDI activities there's no need to worry about business disruption if an issue arises.
Because EDI connectivity is the core business of your EDI Managed Service provider you won't have to worry about availability and can rely on industry-leading performance. With management and updates included you will know your monthly costs in advance and benefit from around the clock support. You can then refocus your teams to provide improved customer service as your business grows.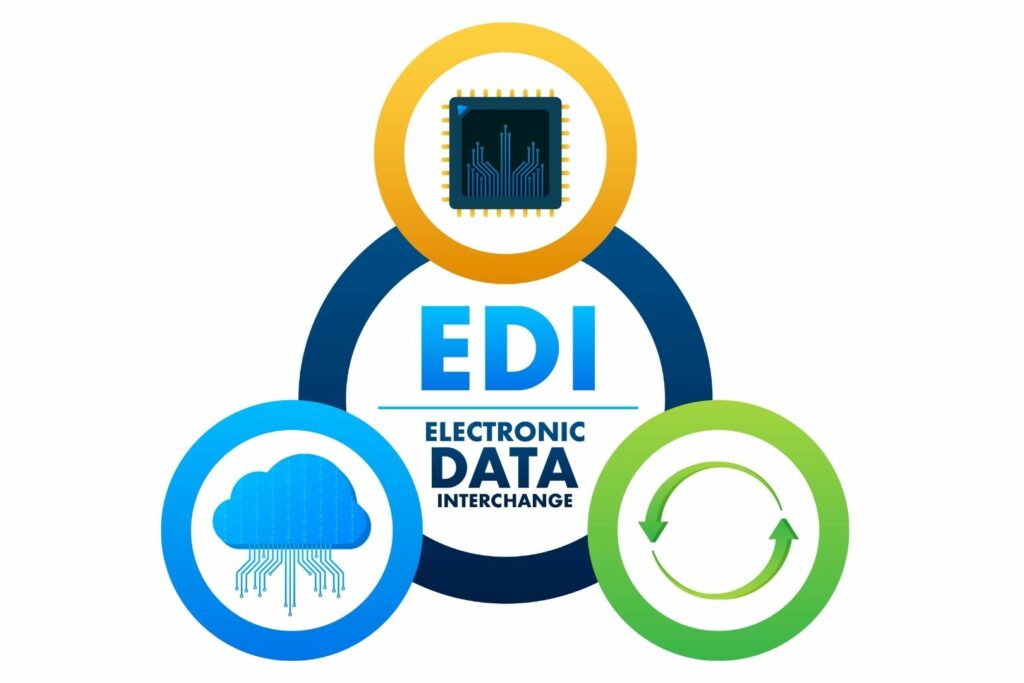 Timing is critical for FMCG businesses. Any delays in digital transactions or communications concerning perishable goods affect shelf availability and cost money. Order processing and communication must be fast and reliable. Failure to deliver agreed service levels can lead to lost contracts. Robust EDI helps manufacturers, distributors and wholesalers meet customer deadlines.
To maintain control of storage and fulfillment, SKUs, packaging, containers and pallets an efficient warehouse management system (WMS) is key.
EDI and WMS integration provides seamless communication between your warehouse and external suppliers, carriers, and customers. You can automate and streamline the flow of information and goods, reduce errors, and improve efficiency throughout your supply chain. Data exchange between your warehouse operations and logistics providers is streamlined and you'll also reduce costs and improve customer satisfaction.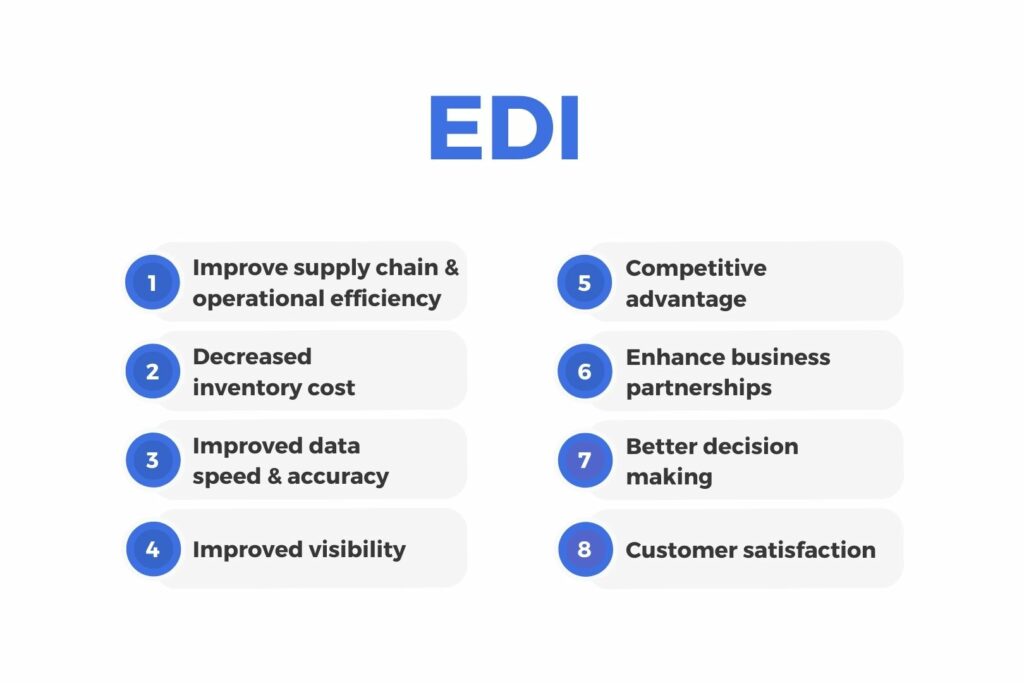 As your business wins new contracts, it's essential to scale your operation seamlessly. Manually transferring order data between business systems leads to errors and delays.
EDI integration with your enterprise (ERP) systems allows you to manage customer relationships seamlessly. Integrations with leading ERP platforms like SAP Business One, NetSuite and Microsoft Dynamics are all available out-of-the-box with Cloudfy.
The order to invoice cycle is faster and cashflow improves when you consolidate your business operations in a single solution. You'll achieve multiple benefits through the additional monitoring and control of key operational activities.
Connection errors. Occasionally internet connections and email systems can fail so automatic error alerts minimize problems.
New orders. Your accounts team won't have to remain logged into the EDI system to receive notifications for new orders. The right person can immediately respond to ensure fast processing and invoicing.
Message monitoring. Monitoring EDI messages is easy so your orders are handled promptly and accurately.
Collaboration. Multiple departments can work together using your ERP system's information and management tools.
FMCG operations made simple
Combining WMS and ERP integration with EDI provides end-to-end automation and improved visibility both internally and externally. Cloudfy supports real-time synchronization between your key business systems and EDI processes. You'll have accurate and up-to-date information about all your digital transactions.
Book a free Cloudfy demonstration to find out how to improve your FMCG operations with an EDI Managed Service.
Frequently Asked Questions
What is EDI, and how does it benefit the FMCG sector?
Electronic Data Interchange (EDI) digitizes and simplifies business document transfers. Over 70% of B2B digital transactions in the FMCG sector use EDI to enhance supply chain visibility, improve accuracy, and streamline communication.
How has EDI evolved over the years?
EDI has come a long way since its inception in the 1960s when it was used for cargo tracking. Today, it's replacing complex paper-based processes and evolving to meet international tax compliance and data quality assurance demands.
What is the role of EDI in FMCG order processing and communication?
FMCG businesses rely on fast and reliable order processing and communication. Robust EDI helps manufacturers, distributors, and wholesalers meet customer deadlines, ensuring shelf availability and cost savings.
How does EDI integration with WMS improve supply chain efficiency?
Integration of EDI with a Warehouse Management System (WMS) streamlines communication between warehouses, suppliers, carriers, and customers. This automation reduces errors, improves efficiency, and enhances customer satisfaction.
What benefits does EDI and ERP integration offer for FMCG operations?
Integrating EDI with Enterprise Resource Planning (ERP) systems allows seamless management of customer relationships. It offers benefits like automatic error alerts, faster order processing, and improved collaboration between departments.