Cloudfy and Magento are two ecommerce platforms that businesses can use to create and manage their online stores. Cloudfy is a cloud-based ecommerce platform that gives online merchants access to several capabilities, such as website design tools, shopping cart functionality, order management, and interfaces with well-known payment processors and delivery companies along with two of its products, Customer ordering app and Mobile sales person app. On the other hand, the open-source ecommerce platform Magento offers companies a selection of scalable features and tools for setting up and running their online stores. It has functions like product administration, order fulfilment, and payment integration, and it has a large user and developer community that actively participates in its continuing development.
Both Cloudfy and Magento have advantages and disadvantages, and the decision to choose one over the other ultimately comes down to the needs and tastes of the business owner. However, there has been several switches from magento to cloudfy because of the ease, cost, security and Cloudfy being one stop shop for all your B2B ecommerce needs.
Some of the basis for differences are:
As Cloudfy is a cloud-based platform, its servers are hosted by Cloudfy. Because of this, companies don't have to bother about server upkeep, hosting, or upgrades. The open-source nature of Magento, on the other hand, allows companies to download and set up the application on their own servers. Although this calls for technical know-how and regular upkeep, it gives you more freedom and control over the hosting environment.
Cloudfy is dedicated for B2B ecommerce platform while Magento was originally built for the sake of B2C and later has also expanded to the B2B ecommerce business section. Thus, Cloudfy holds expertise in B2B ecommerce that too specifically for manufacturers, distributors nd retailers.
Ease of Use and Customer Experience
Non-technical individuals may easily construct and maintain their online store with the help of Cloudfy's user-friendly drag-and-drop interface. In comparison, using Magento is technically complex and has a high learning curve. Magento provides additional customisation choices, but at the expense of the platform's increasing complexity and usability.
Hosting and setup are both included in the monthly fee with Cloudfy. Because of this, organisations may start operating right away without having to worry about hosting, server configuration, or continuous maintenance. Contrarily, Magento mandates that companies manage their own server configuration and hosting, which may be laborious and complicated.
Good security precautions are in place for both Cloudfy and Magento, however there are significant variations To keep the platform safe, Cloudfy employs SSL encryption and gives frequent updates and fixes. PCI DSS is in place by default with cloudfy making it the most secure and reliable platform. While Magento also has strong security features, organisations must actively upgrade the programme to use the most recent security updates and fixes.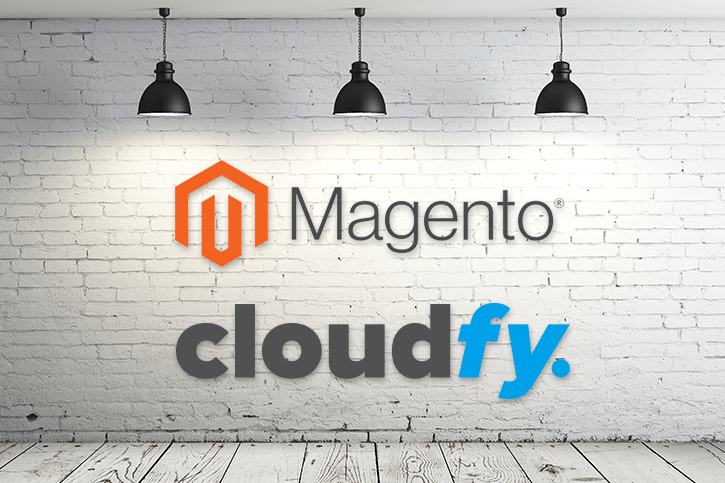 Customization and Flexibility
Although Cloudfy provides almost all the customization choices, such as the possibility to select from pre-built templates, the variety of modification possibilities on demand. Only few high end add-ons costs a bit additional, otherwise mostly included inpackage. On the other hand, Magento is quite flexible and provides a variety of choices for changing the look, feel, and user experience of the online store but at additional cost.
To expand the functionality of their online shop, businesses may utilise a wide range of third-party extensions and plugins that Magento makes available. They include anything from shipping plugins and payment gateways to marketing and SEO solutions. Although Cloudfy offers connectors with well-known payment gateways and delivery companies, it has less third-party integrations accessible overall.
Scalability and Performance
Medium and Large-sized enterprises may scale Cloudfy, which also provides programmes for companies with various volumes of traffic and sales. Large and complicated organisations may use Magento, which is very scalable, but doing so takes more technical know-how and possibly more hosting resources.
Cloudfy provides fixed pricing plans at competitive rates. It is simple to budget for the costs of operating an online store because the price plans are dependent on the features and functionality needed by the company. When hosting, extensions, and other features are taken into account, Magento may get pricey. However, Cloudfy offers the same functionalities at 1/3rd of the pricing of competitors.
Customer service is available around-the-clock and is outstanding at Cloudfy. This implies that companies may obtain assistance anytime they want it, whether they are having trouble with technology or need assistance putting up an online store. The little customer assistance offered by Magento may come with a cost for services like installation or modification.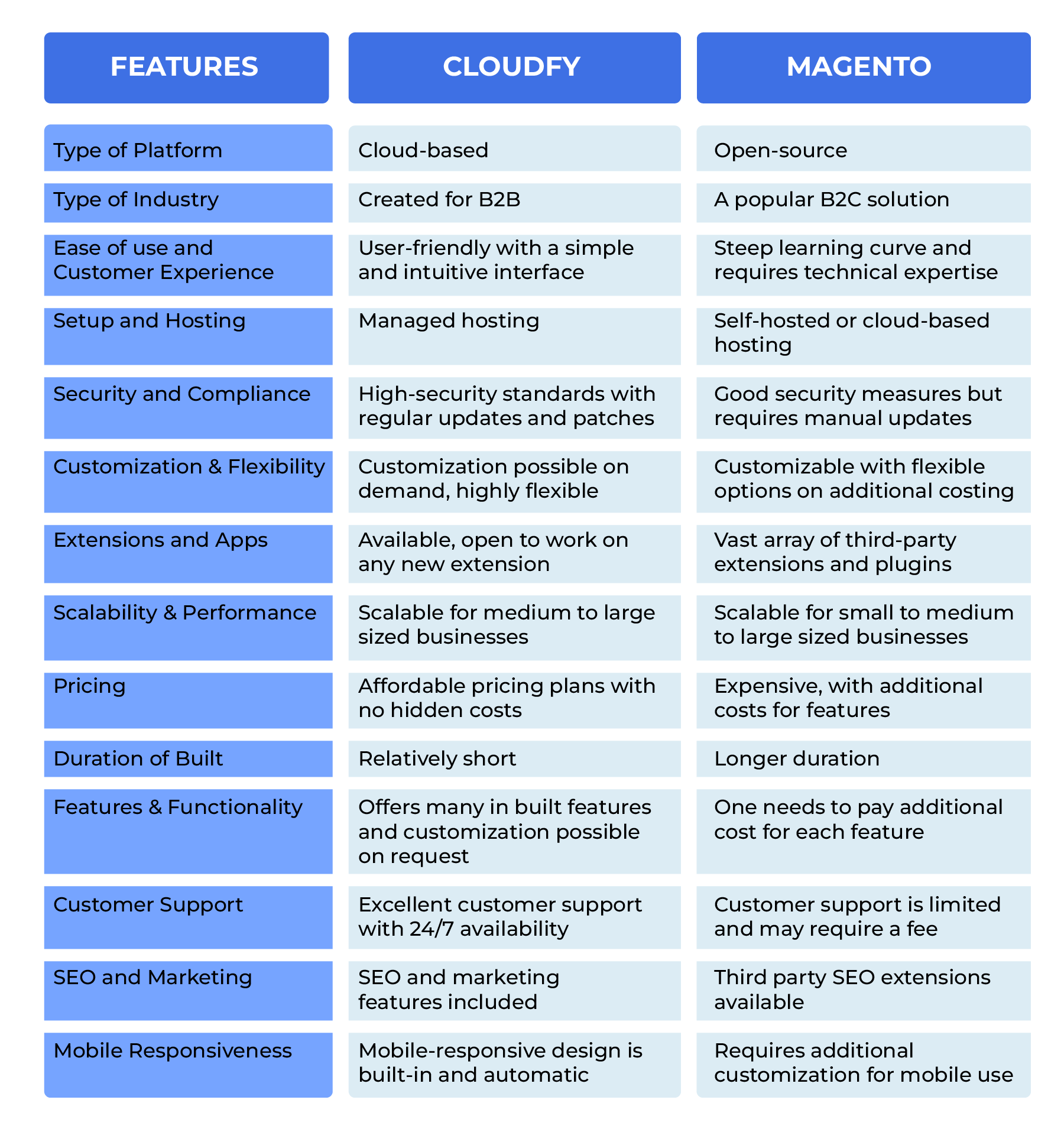 Both Cloudfy and Magento offer basic SEO and marketing features, such as the ability to optimize pages for search engines and create marketing campaigns. Magento offers more advanced SEO and marketing tools and features, such as the ability to create landing pages and personalized shopping experiences. Cloudfy offers built-in mobile responsiveness, making it easy for businesses to create mobile-friendly websites, while Magento requires additional customization for mobile use.
Cloudfy is a cloud-based platform that is simple to use, inexpensive, and offers third-party connectors but not totally dependent on them. There are huge customization choices based on your demand and need. We are not depend on third party extension, which make cloudfy more secure, for magento the biggest Challange is that if an extension not compatible with latest or old version, this may result in disturbing the entire website.
Although Magento is an open-source platform, it takes technical knowledge and can be pricey. It is also very configurable and scalable. Although Cloudfy offers a more straightforward and user-friendly interface, Magento offers a wide variety of third-party extensions and plugins (at additional cost mostly). The security precautions for both systems are strong, but Cloudfy provides more approachable customer service and built-in mobile responsiveness and additional secure edge, while Magento has sophisticated SEO and marketing tools. In the end, the decision between Cloudfy and Magento will be based on the requirements and objectives of the company.
Reasons why you might choose Cloudfy as your ecommerce platform
Managed Hosting and Security
Cloudfy offers a fully managed hosting solution, which means they take care of server maintenance, scalability, and performance optimization. This can save you time and resources that would otherwise be spent on managing hosting infrastructure. Additionally, Cloudfy prioritizes security and provides measures to protect your online store, including secure payment gateways, SSL encryption, and regular security updates.
SaaS (Software as a Service) Model
Cloudfy operates on a SaaS model, which means you pay a subscription fee to access and use the platform. This can be beneficial because it reduces the upfront costs associated with purchasing and maintaining software licenses. It also ensures that you have access to the latest updates and features without having to worry about manually installing updates or managing version compatibility.
Cloudfy is designed to be user-friendly and intuitive. Its admin panel provides a straightforward interface for managing your e-commerce store, making it easier for non-technical users to operate the platform. This can be particularly advantageous if you don't have extensive technical expertise or if you want to minimize the learning curve for your team.
Regular Updates and Enhancements
Cloudfy is committed to providing regular updates and enhancements to its platform. This means you can benefit from new features, performance improvements, and security updates without needing to manage them yourself. Regular updates help ensure that your store stays up to date with the latest industry standards and customer expectations.
Cloudfy is designed to be scalable, allowing your ecommerce store to grow as your business expands. The managed hosting infrastructure provided by Cloudfy, combined with its cloud-based architecture on Microsoft Azure, enables efficient scaling and ensures that your store can handle increasing traffic and product catalogs.
Cloudfy offers customer support and training to assist you in setting up and managing your e-commerce store. They provide resources such as documentation, tutorials, and responsive customer support to address any questions or issues you may encounter.
Cloudfy is atleast one-third the cost of competitors offering the same functionalities making is much affordable B2B ecommerce platform.
Ultimately, the decision to choose Cloudfy should be based on your specific business needs, technical requirements, budget, and the level of control and responsibility you desire. Consider evaluating Cloudfy's features, pricing, customer reviews, and comparing them to other e-commerce platforms to determine if it aligns well with your objectives.
Overall, if you're looking for an all-in-one, cost-effective ecommerce solution that is tailored for the needs of B2B ecommerce, Cloudfy is the right platform for you. If you're a retailer with a multi-million pounds turnover who needs a more customized solution, then you should opt for Magento. Cloudfy offers very clean code while for Magento, more payment is to be made for getting cleaner codes. Thus, in terms of security, extensions, user-friendliness, scalability, hosting and setup, Cloudfy is a win-win for you. Grab this one-stop-shop for all your B2B ecommerce solutions now. For more information about Cloudfy or to request your free demo, Contact us now.