Industry 4.0 is all about computer-assisted production using intelligent technologies that increase productivity and customer responsiveness to unprecedented heights. The most recent technological advancements have advanced manufacturing to the point where firms can now make goods on a large scale, thanks to automated machinery.
Most new technologies aim to take human effort out of the picture. The human element is still necessary for more intelligent and worthwhile work, though. IoT, AI, and digital twins are some of the current Industry 4.0 Technologies that make it simpler to produce goods without the involvement of humans.
Digital transformation is becoming a requirement for all businesses, including business to business (B2B) manufacturers. A survey of 200 manufacturers found that many have multiple projects underway to upgrade digital supply chains, improve integration, and to increase online sales. Many have plans to go from virtually no online sales to 60% of all sales in the next several years.
Ecommerce for manufacturing businesses
There are significant developments taking place in the industrial sector. More and more firms are being compelled to digitize their business and production processes to remain competitive in the market as analytics, sensors, robots, cloud computing, and IIoT technology become increasingly affordable and simple to adopt.
If you're planning to enter the world of ecommerce as a manufacturer, there are some challenges that you will need to tackle, including:
The Quality and Depth of Your Product Data
The Accuracy of Your Inventory Information
How To Create a Near-Frictionless Checkout Process
Handling Complex and Lengthy Order-To-Cash (O2c) Processes
Moving Traditional Buyers To Online Channels
You will want to be sure that ecommerce will improve rather than diminish relationships with your customers. For manufacturers already on an ecommerce journey, many have found they needed to handle more customer service enquiries while increased sales reduced their margins and customer loyalty fell as they were tempted by other online offers.
Why are so many manufacturing businesses moving ahead as quickly as possible with ecommerce plans?
Firstly, they need to diversify their sales channels and strategies to address increasing competition and ever-tighter margins. There's also increased online competition from sector-specific marketplaces and own-brand ecommerce platforms, which are challenging more traditional models of field sales teams and electronic data interchange (EDI) transactions.
The pandemic has significantly increased manufacturers' ecommerce activities, but an even more powerful reason for growth in ecommerce adoption is the change in online B2B buying behavior.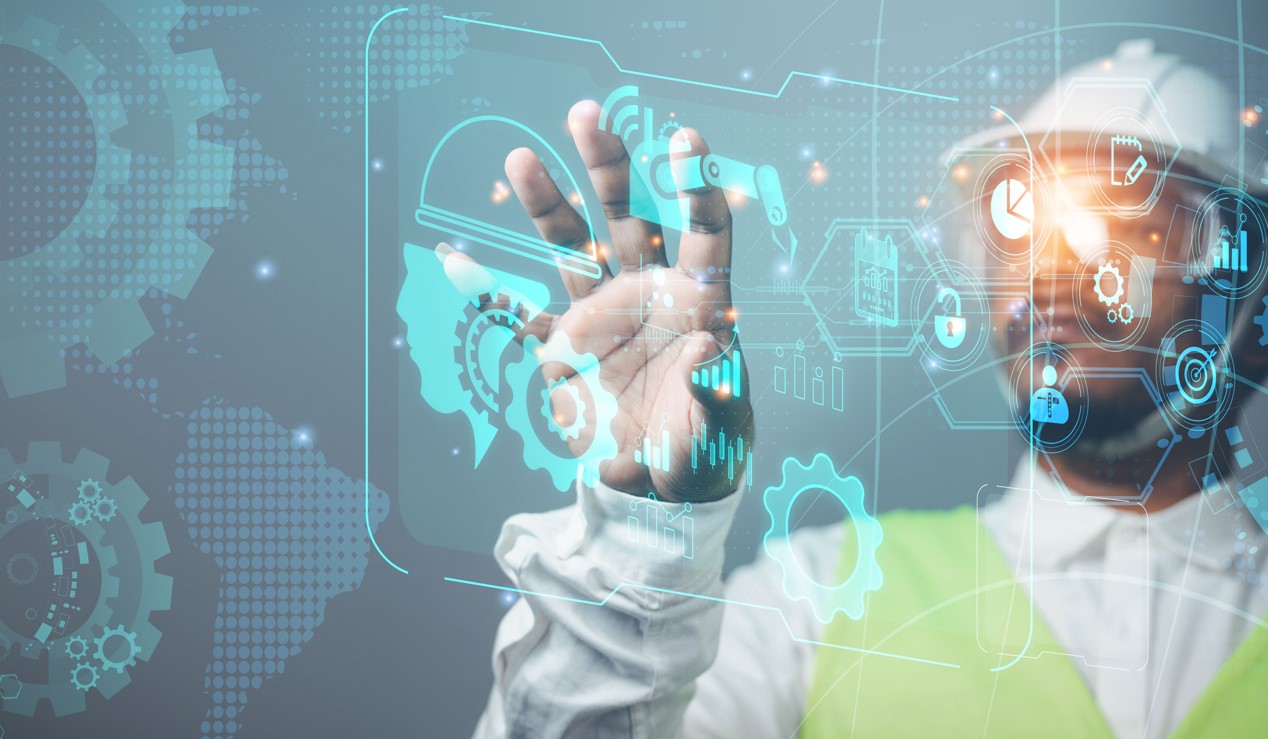 No turning back
Manufacturers who have already adopted ecommerce have seen that they can generate up to half of their revenue online. Nearly two thirds of manufacturers now sell online, an increase of 17% from 2017 with more than 36% growth in the use of online marketplaces.
While industry sectors differ, there are some common benefits for manufacturers who have adopted a robust digital strategy, including increased sales and improved customer relationships.
With a review of business processes underpinning the development of an effective digital strategy, manufacturers have also reported increased revenue due to improved efficiency and better customer experiences.
Half of manufacturers across all industries believe that third-party and in-house ecommerce solutions are the main drivers for revenue growth and that they will continue to be in the next three to five years.
Some sectors are likely to see an even greater impact in that time, including automotive and machinery manufacturers who are anticipating the largest proportion of revenue to come from ecommerce.
B2B ecommerce trends for manufacturers
Advances in digital technologies have made the move to online sales a practical option while evolving customer preferences mean that expectations are high for online discovery and frictionless sales processes. The key to success will be in delivering smooth and effective customer experiences.
There is evidence that B2B buyers want to use online channels and would prefer to buy up to 90% of products online, although less than 20% are currently able to do so. Ease and speed are the buyers' top priorities, with a fast and easy checkout, easy repeat ordering, quicker deliveries and improved tracking.
For those manufacturers that have already moved ahead with their ecommerce plans, the next steps are likely to include headless commerce, voice commerce, configure, price, quote (CPQ), product information management (PIM), artificial intelligence (AI) and machine learning. In addition, real-time integration and automation are reliable and scalable solutions to reduce order errors and speed up the complex O2C processes
Two thirds of manufacturers say that they already sell directly to consumers. For many this involves changing to a more customer-centric business model to support direct to consumer (D2C) and business to business to consumer (B2B2C) approaches.
A range of tools can expand the potential of digital marketing for manufacturers, including hybrid online and offline events and the use of AI to create actionable insights from large data sets alongside a carefully planned content strategy.
Businesses must use sophisticated analytics to evaluate current performance and make educated decisions about supply chain management, product development, and other crucial business issues considering the enormous quantity of industrial data created across every touchpoint.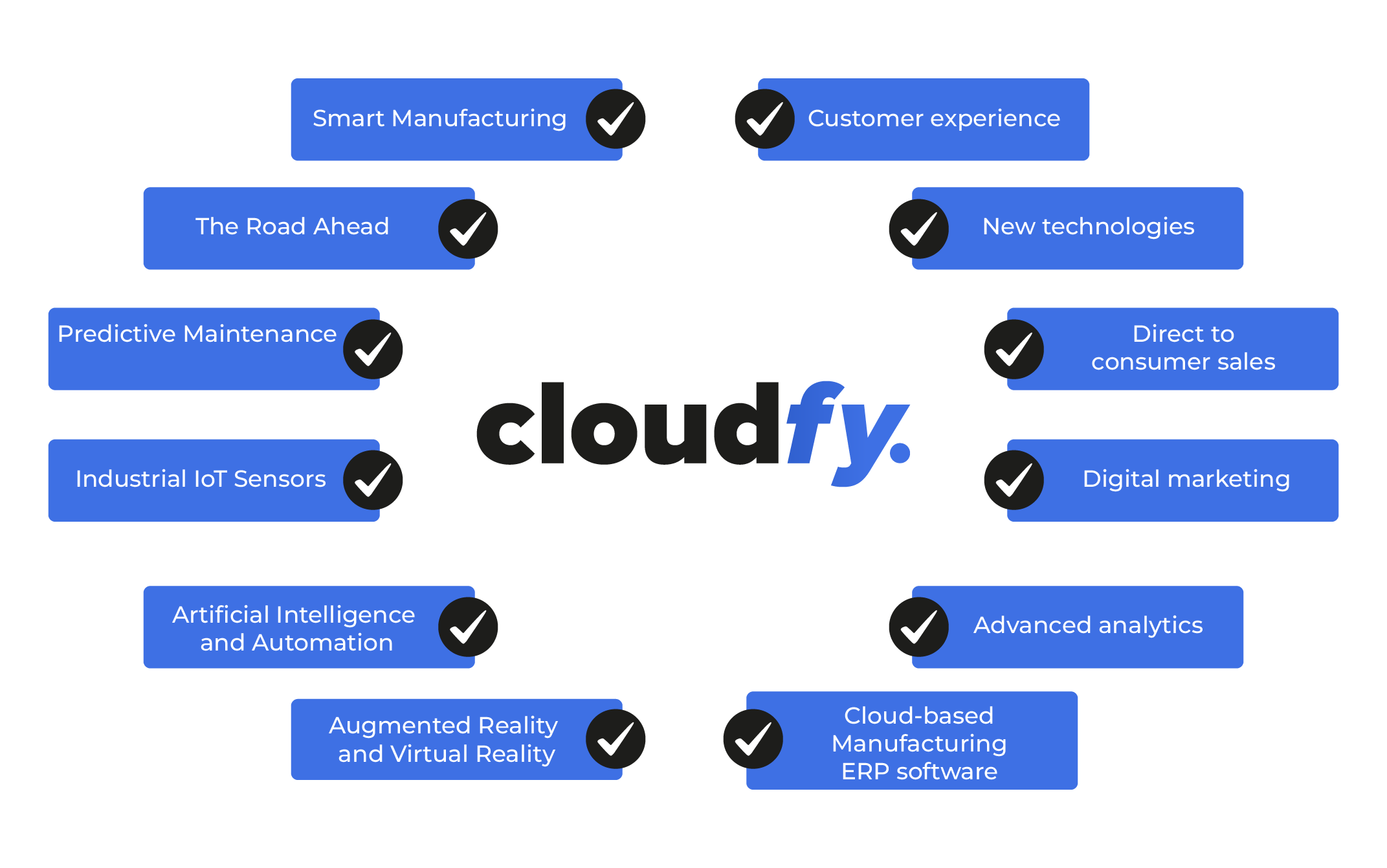 Cloud-based Manufacturing ERP software
Manufacturing companies may store data on the cloud and access it at anytime from anywhere with the use of cloud-based enterprise resource planning software. Moreover, it enables staff to work together on projects, access documents from a distance, effectively manage inventories, enhance customer interactions, and expedite production and planning. In a word, cloud ERP enables industrial businesses to increase revenues while experiencing fewer operational annoyances.
Artificial Intelligence and Automation
In recent years, automation and AI have considerably aided in the transformation of manufacturing operations into better, safer, and more intelligent ones. As firms seek to automate tiresome manual procedures, enhance quality control, and decrease waste, this trend will persist in 2023.
Augmented Reality (AR) and Virtual Reality (VR)
By 2023, the value of AR and VR use in the industrial sector will be $2.8 billion. The work of manufacturing employees is complemented and enhanced by AR and VR. For instance, they aid in providing remote support for simple repairs and troubleshooting. They also aid in investigating cutting-edge touchless solutions to provide assembly instructions, build a virtual manufacturing line, see the completed product before starting production, and do a lot more.
Almost 43 billion gadgets will have internet access by 2023. IoT sensors are frequently used for tracking equipment maintenance, controlling inventories, monitoring facilities and equipment, and detecting ambient conditions like humidity. As a result, these IoT-enabled devices may be used in factories, fields, or any other places where information on the performance of equipment has to be gathered and evaluated.
Manufacturers can keep an eye on the machinery and equipment for wear and tear with the use of predictive maintenance. Also, it assists in anticipating the need for equipment maintenance before a breakdown. The machine spends less time idle because to this proactive strategy, which also improves operational effectiveness. Also, predictive maintenance continuously checks the condition of the equipment and assists in making any necessary modifications in advance to save unforeseen maintenance and repair expenses.
It's anticipated that the digital acceleration that was achieved in 2022 will last through 2023 and beyond. Technology-driven solutions have a huge potential to revolutionize industrial processes since they may ensure the efficient running of a whole facility. Although it won't be easy, the aforementioned technological advancements make it possible to achieve the ultimate aim of the future factory.
This phrase is used to describe the collection of information regarding system operations and inter-system communication using automation and digital technology. It may be used in supply chain management, production, and quality control, among other manufacturing-related areas. Using modern technology to increase the productivity and efficiency of manufacturing processes is the main objective of smart manufacturing efforts.
Manufacturing businesses should use digital technology more frequently to boost efficiency, supply chain visibility, and connection with partners, suppliers, and customers in order to succeed in the next year. To attain high-end production efficiency, producers should simultaneously seek to make smart factory projects succeed.
Cloudfy has been designed from the beginning as an ecommerce solution for B2B organizations. The team has worked with leading manufacturers to understand the unique needs of their sector and the complexity of their products. That's why we can deliver powerful, seamless B2B ecommerce solutions for manufacturers.
Optimizing ecommerce functionality for your end users and distribution partners will differentiate your brand and support your plans for future growth.
Book a free demonstration today to see how Cloudfy can meet the ecommerce needs of your manufacturing business.