Not all customers are the same, and neither are their requirements. By offering a 'Request a quote' option, you can show them that you're ready and able to meet their needs. They can even add queries and documents to make everything clear. With workflow in place, behind their request, you can quickly show new customers how competitive and responsive you are.
If your products are bespoke, you can find out exactly what your customer is looking for straight away and be ready to give them the best possible solution. If you provide high volume products, the price will vary depending on the volume and order frequency. Shipping will probably affect your quote too, depending on when and where delivery is needed and the size of the order. You can include all these details to give an accurate answer through a fast and efficient workflow process.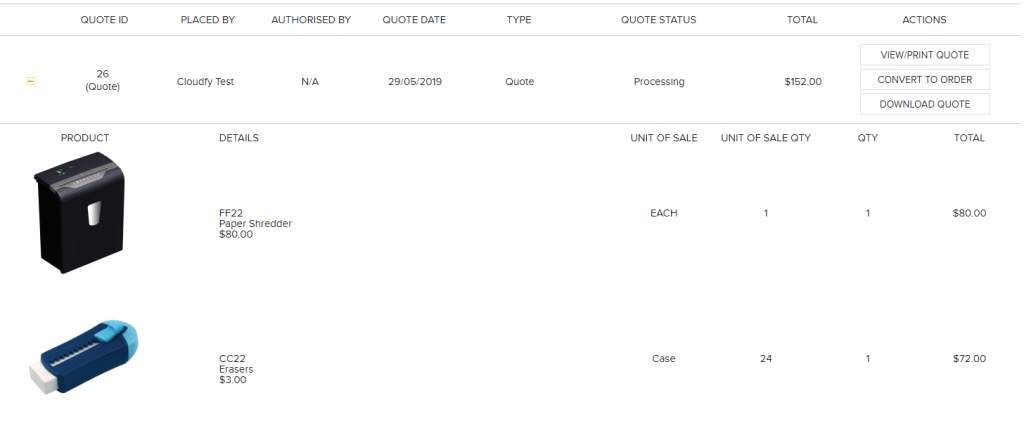 Create draft orders for existing customers
For your existing customers you can add information you already have about them to the quote workflow. You can start preparing a draft order for them on the phone or person, or they can start the process themselves.
If they would like to know the prices for larger or smaller quantities, you will quickly have the answer for them. You can even add in special promotions and comments
A link in an email will give your customer access to their own dashboard and you can confidently discuss and check any details with them, because you can see the same information.
How quote workflow empowers your sales team
By setting up all the relevant options in your workflow, your sales team can give a quote to your customer with confidence. If some details need to be checked with product specialists or managers, this can be included in the process too.
Customers who are already registered with you can see how their quotation is progressing and will be able to ask questions along the way.
Requests for quotes can be managed through an easy dashboard, so nothing will be missed.
Streamline quotations with integration
Integration with your other business systems will allow you to check the availability and current prices of materials, parts and products so you will always be able to deliver on your promises.
You can also minimize the risk of errors caused through manual data entry and everyone can share the same information at the same time.
One easy step from quote to checkout
Once your customer is happy with their quote, they can go straight to checkout to complete their purchase.
Talk to one of our experts about speeding up your B2B sales process with quote workflow.