CIMC Home is wholesale distributor of furniture, lighting, and home décor in the UK and European Market. They buy stock from manufacturers and warehouse it until they sell it to smaller companies. Their exclusive, modern designs are perfect for online retailers, interior designers, furniture stores, and hotels.
The Challenge
CIMC Home previously used Magento for their website and B2B needs. With Magento, they must put in a work ticket to change anything on the website and wait until the Magento team changes it.
CIMC Home needed a solution that could handle their B2B needs and also allow them to easily edit the website and add content moving forward. Because their inventory changes so frequently, they wanted the ease and efficiency of adding images to their website themselves. They also wanted to add a high-end catalog, a news section connected to their blog pages, and related items and multi-variant items.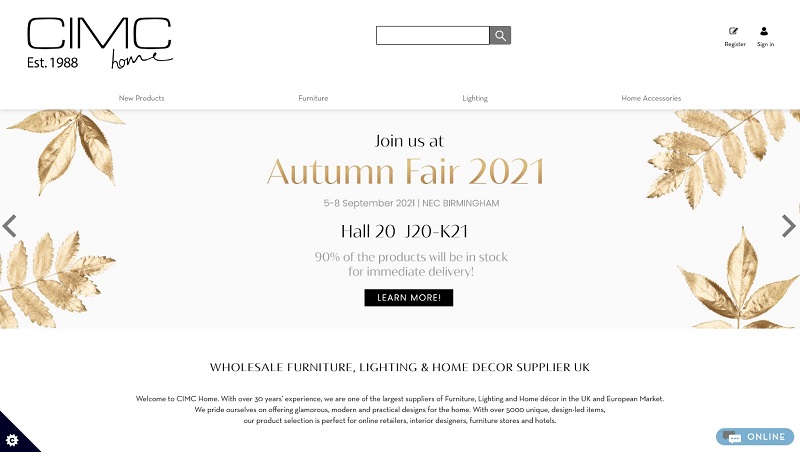 The Solution
Cloudfy provided the CIMC Home team with the ability to update their website themselves. With Cloudfy's out-of-the-box features, CIMC Home can add static pages and images through the control panel and change their products and home page in a timely manner so that customers can see their fresh product solutions.
Cloudfy also built custom features for CIMC Home to help improve their sales. One of these custom features is a grid that pulls in related products. For example, if someone purchases a dining room table, then the related products feature will show chairs that would go well with it.
ERP integration is through Microsoft Dynamics Navision (Dynamics NAV).
Other custom features provided by Cloudfy on CIMC Home's control panel include order templates where customers can save their favorite items for quick reorder as well as a feature that emails customers a list of CIMC Home's available stock. Customers can choose to receive email updates weekly, daily, or monthly, or they can log in and see the available stock in real time.
Checkout their new site here.
If you're seeking a Magento B2B ecomm replacement solution, contact us now to discuss your project and request a free demo.