NAO Global Health is a leading dedicated supplier specializing in medical, surgical, diagnostic and analytical lab products, and safety supplies serving federal, state, and municipal governments. NAO Global is a family and community orientated business that was founded in 2009 to join in the fight against extreme global poverty through access to innovative technologies. Armed with bright minds and passionate people came the promise and responsibility of social good.
NAO Global are proud of the commitment to provide the highest quality medical, surgical, pharmaceutical, laboratory, healthcare simulation and veterinary equipment and supplies at cost effective affordable pricing to improve healthcare delivery, while also maintaining exceptional customer service.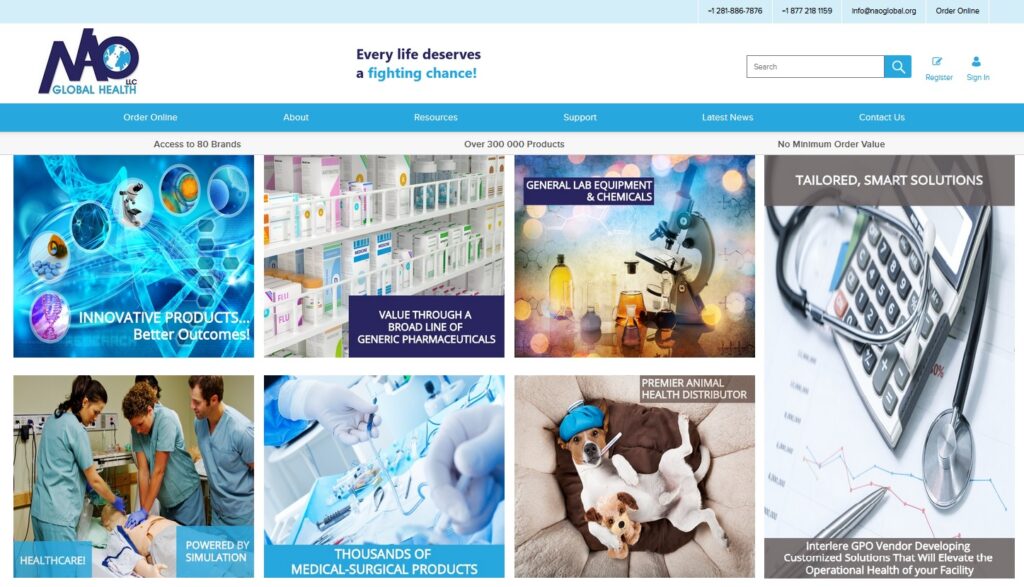 NAO chose to work with the team at Cloudfy because of the extensive experience in the pharmaceutical industry, specifically in the US, making Cloudfy Core Edition the platform of choice.  The solution could meet all NAO's immediate needs around restricted catalogues and products, contract and standard pricing and stock management. The implementation of multi-user accounts to delivery locations ensured a productive user workflow.  The Cloudfy integration modules allowed the seamless flow of data between Cloudfy, Acctivate Warehouse Management and Quickbooks Enterprise.
Cloudfy worked closely with Acctivate to provide a seamless end to end ordering process using there open API. The results mean that NAO customers have access to real time product, stock and order information.
If you're looking for a feature-rich, turn-key B2B ecommerce solution with deep ERP integration, contact us now to request your free demo of Cloudfy.