Paroh are a UK based global importer and distributing supplying many of the country's most successful retailers with a complete line of core products and their own instantly recognizable brands and also offers a service to supply unique product lines sourced and developed specifically to their customers own label requirements.
Creating an Online One-Stop-Shop
Part of a successful family-owned group with over 18 years of experience in the trading industry, Paroh supply a vast range of customers which span from big retail chains to wholesalers, garden centers, department stores and more with an impressive range of popular consumer goods. Some of the brands they provide include Yellowstone camping equipment, Active Living, Matfield Lavender Co, Hilly's Kitchen range of fun and funky baking accessories, New York Gift Co and the Kent Collection of garden furniture and solar lighting.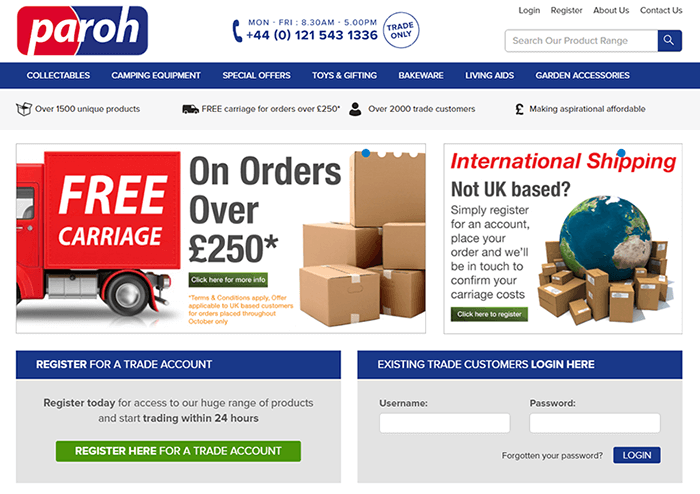 Birmingham based Paroh have chosen Cloudfy to launch the next phase of their online trade operations.
Particularly important to Paroh was the ability for Cloudfy to integrate smoothly with SAP Business One. Cloudfy with a specific SAP B1 connector allows full integration of stock, orders, product data, pricing and customer information. Paroh were delighted with the end result, a full end to end B2B Ecommerce solution working seamlessly with SAP B1.
The new B2B ecommerce portal on Cloudfy present and exciting new online chapter for the company.  The new Cloudfy website represents an online one-stop shop for Paroh's customers who are able to register for a trade account, browse the full range of products available and shop at their convenience and place bulk orders 24/7.as well as discover useful information related to distribution, showrooms, trade shows and much more.
Via the new trade website, Paroh offer over 1500 unique products and offer free delivery for registered trade customers for orders over £250.  In addition to this the Paroh business have utilized the Cloudfy mobile selling app which offers businesses a highly capable and comprehensive catalog and order management app that enables field sales operatives with an interactive catalog on IPad enabling them to place orders in real time.
If you're looking for a hassle-free, cloud-based B2B ecommerce solution to enable your business to trade online, contact us now to request your free demo.