Why your sales reps need an app
Your field sales team do much more than make sales visits; they take part in meetings, write reports, deal with customer queries, and provide valued advice.
While the value of a 'digital first' approach has been proven during the pandemic, face to face interactions will still play an important role. Providing your field sales professionals with the tools they need to work effectively while they're away from base will help to keep your business running smoothly and efficiently.
Requirements will vary, depending on your business and your customers' needs. You will certainly want to provide access to your latest products, pricing details, and customer information. Having this all at your fingertips on a tablet device will make printed catalogs things of the past and improve customer service.
Here we look at Cloudfy versus some of the other leading sales rep ordering apps you might like to consider for your B2B business.
Cloudfy's Sales Rep Ordering app vs competitors​
CLOUDFY
Cloudfy's Sales Rep Ordering app is designed to make it easier for your field sales team to meet the needs of your customers when they're out and about.
The app provides secure access to your warehouse information, customer profiles, standard forms and contact records.
It's a scalable and customizable solution that's suitable for all types and sizes of operation. You can keep your sales reps updated with the latest information and reduce back-office order processing costs and errors.
Orders placed by your field sales team can be integrated seamlessly with your enterprise (ERP) systems to trigger fulfillment and to update your customer relationship management (CRM) system. There's also a powerful application programming interface (API) for specialized customizations.
The Cloudfy app can be used without an internet connection and information can be updated when your reps return to base.
To support and streamline sales in the field, stock can be easily filtered by quantity, type, or price range. With access to all the latest information the app will help your team to up-sell and cross-sell as well.
Users can monitor their performance by product, month, and customer, with easy graphs and tables, sorted by invoicing targets, and current or historic sales.
You can also provide the app experience as a self-service option for your customers, making reordering fast and easy on mobile devices for your busy buyers. You can add advertisements or push notifications to catch their attention and they can respond quickly via the app.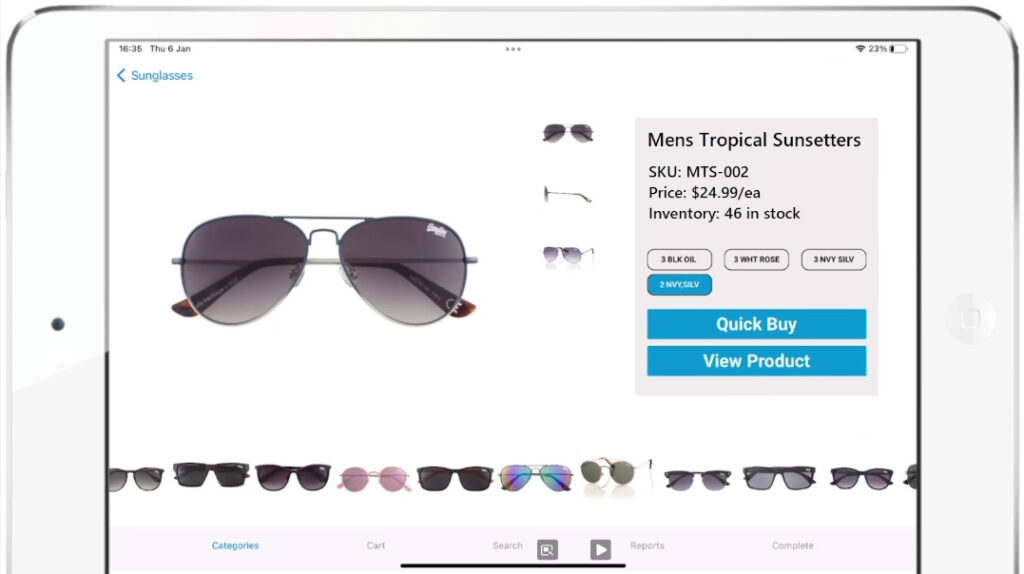 PEPPERI
Serving small to enterprise level businesses, Pepperi is designed to manage omnichannel business to business (B2B) sales.
It supports planning, execution and analysis and allows your sales reps to order at any time, from anywhere. Online and offline order-taking and trade promotions can take place across all your channels at the same time.
You will need the enterprise-level platform for integration with your ERP system to make your business data fully accessible to your field reps and buyers.
HANDSHAKE
Handshake is a B2B ordering solution for both sales reps and customers. It's designed for brands, manufacturers and distributors selling to retail stores and business customers.
The dedicated sales rep app provides customer, product, pricing, and inventory information to support sales conversations and meetings. Once orders have been entered, they can be submitted straight away.
Customers can also place shelf-side orders when they are on the shop floor.
B2BWAVE
B2BWave is designed for wholesale distributors, manufacturers, and drop shipping suppliers.
Your sales reps can easily view, filter, and share product information in the field. Orders and reorders can be placed via the online product catalog with multiple price lists. Orders and customer information can be synchronized with your accounting and inventory systems and order details and status can be reviewed.
Zapier can be used for integration with other business tools and for customized integrations, making it popular for fast implementation.
WAY2ORDER
Designed for brands, distributors, wholesalers, dealers and retailers, sales reps and wholesale customers can view your product catalog and pricing and manage orders.
You can approve customers and control their view of your products and pricing and allow them to place orders.
An API supports integration with inventory, invoicing, accounting, and ERP systems. Real-time reporting can then be used to improve production planning and to make purchasing forecasts.
ORDEREASE
Sales reps and customers can access catalogs, pricing, orders, and inventory, via mobile devices or the desktop. Orderease also offers integration with existing back-office systems.
New products can be easily introduced and simple quotations can streamline the order-taking and re-ordering processes.
The finger scanner feature synchronizes with your phone or tablet to make ordering easy and secure.
Notifications when 'curious customers' have visited your website or abandoned their cart can help to improve engagement and increase sales.
In summary
As you would expect, all these sales ordering apps can help to improve your performance, including either in-built or optional features such as:
a digital catalog to showcase your products
synchronization with your enterprise systems
online and offline operation
support for offers and promotions
secure access to customer information
real-time tracking and reporting.
To make the best choice for your business, you will want to thoroughly review what they have to offer natively or as add-on features.
The Cloudfy Sales Ordering app is specifically designed to be secure and robust with comprehensive tools for your B2B field sales team. It's certainly worth your consideration if you are aiming to provide a seamless end-to-end ecommerce portal for your business.
Contact us now to find out how the Cloudfy Sales Ordering app can meet your business needs.