Macfarlane Group Plc, founded by Lord Macfarlane in 1949, is the largest supplier of protective packaging in the UK and Ireland, serving over 20,000 businesses nationwide, with a focus on reducing packaging costs while enhancing the reputation of their customers through custom designed solutions. Operating through a network of regional distribution centers, each with a dedicated customer service, procurement, logistics and sales team to support the needs of the customer. Each warehouse is stocked with the widest range of packaging products, to be picked from as needed and dispatched in one of the company's dedicated delivery vehicles.
Macfarlane Packaging are a forward-thinking award-winning organization and have been sophisticated B2B Ecommerce users for several years having been an early adopter of B2B and Retail Ecommerce. In addition to finding a solutions partner that shared their extensive knowledge and experience in Ecommerce, it was vital that the new platform had the ability to run all elements of the Ecommerce side of the business such as online ordering and customer self-service, but just as crucial was direct integration capabilities with SAP Ariba Supplier Management and PunchOut e-Procurement, IBM iSeries ERP, Warehouse Management, cXML and EDI.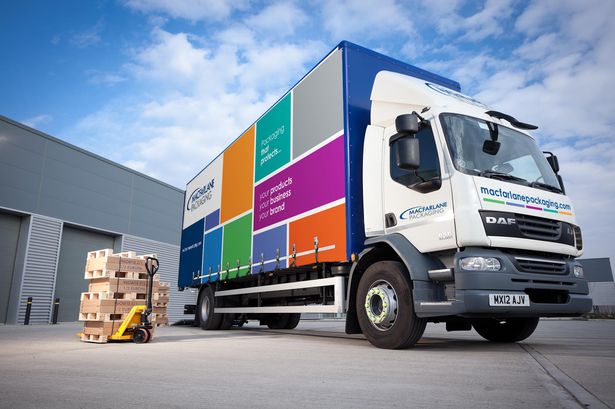 Macfarlane chose Cloudfy's Enterprise B2B ecommerce software package as their core platform. Cloudfy's feature list, SaaS model and experience in integrating with IBM iSeries were amongst the main deciding factors. In addition, 24/7 support to underpin the growing Macfarlane Ecommerce operations was essential. Direct integration with large customers through Punchout, SAP Ariba, PoET, EDI and cXML would allow Macfarlane to scale their business model for the coming years.  Macfarlane customers have a range of bespoke and standard products. Cloudfy provides a personalized view once a customer logs in, allowing users to see products specific to their company, location, purchasing level.
Macfarlane looked to Cloudfy to modernize their AS400 integration from a dated flat file integration to something more real time. Cloudfy delivered an API based integration allowing much greater data sets to be synchronized significantly faster between the ERP system and ecommerce platform.
Finally, user experience needed to offer customers a combination of some of the familiarity of the long serving previous platform yet bring all the benefits of the extensive B2B ecommerce tool set.
Do you need a feature-rich B2B ecommerce software with SAP Ariba, Punchout EDI and more? Contact us now to schedule your complimentary Cloudfy demo.