In today's digital age, B2B ecommerce has evolved far beyond the traditional online shopping experience. It's not just about adding items to a cart and checking out. B2B ecommerce, especially in complex industries, often involves a multi-step process known as "Quote to Cash." In this blog, we will delve into what Quote to Cash B2B ecommerce is, why it matters, and how it can revolutionize your business. 
Quote to Cash or Q2C has become somewhat of a buzzword in recent years with more companies starting to invest in it and upgrade their business processes.
But if you're not familiar with the concept, we've prepared a blog that covers what Quote to Cash is, how it works, what are the benefits and if it's something your B2B company should consider. Read on to discover the answers.
What is Quote to Cash?
In short, Quote to Cash refers to a streamlined, end-to-end selling system that features everything needed to transform an interested user into a customer that has completed a transaction. It is a clever way of combining and automating multiple processes to create a single system which covers the entire buying journey from attracting leads to delivering a quote, completing a transaction and serving the invoice.
In the world of B2B ecommerce, these processes take place online and a Q2C ecommerce solution should be able to deliver everything from setting up an online destination which includes product and pricing information to taking a prospect from the quoting stage to completing a transaction.
How does Q2C work?
Historically, Q2C processes have been handled primarily offline by the Sales department of a business. However, B2B ecommerce platforms, such as Cloudfy, can provide a framework to support this business process online.
while most of the steps followed by a generic buying journey are the same, they can differ across various industries which have different requirements. Cloudfy has been tailored built to cater for the needs of B2B ecommerce companies and as a Q2C solution it can be used to streamline the following processes using a single platform:
Set up – Create an ecommerce website which hosts all the product and pricing information needed, as well as providing a destination where the Q2C processes can take place.
Attract leads – All Cloudfy websites are search engine friendly, can be connected to various email marketing platforms, social media channels and AdWords allowing you to promote your business online across various channels to attract leads.
Turn leads into opportunities – Cloudfy's easy to navigate interface and responsive design provide a UX friendly experience on both desktop and mobile. This, in addition to key features such as customer self-service, save basket functionality, quick order, cross sells and up-sells help turn leads into customers once they've arrived on the website.
Quote – Whether you only want to show prices to logged in customers who've registered for a trade account or you're looking for a contract pricing solution, Cloudfy can help you automate this process and offer accurate quotes to prospects, online.
Order – Once your visitors are happy with their quote (whether that is the order value of the products they're about to buy or the value of a contract), they can easily place their order via the website, at any time and from anywhere. Cloudfy offers several payment options so you can provide your customers with increased flexibility when it comes to completing their orders.
Fulfilling the orders – Cloudfy can be easily integrated with other systems such as NetSuite, Sage or Microsoft Dynamics NAV so you can run a fully integrated ecommerce business which is automatically updated with external product data, helping fulfill orders easier.
Invoicing – Cloudfy features a customer portal for PDF Order & Invoice Download so your customers can receive the final bill in the same place.
How to Implement Quote-to-Cash on B2B Ecommerce?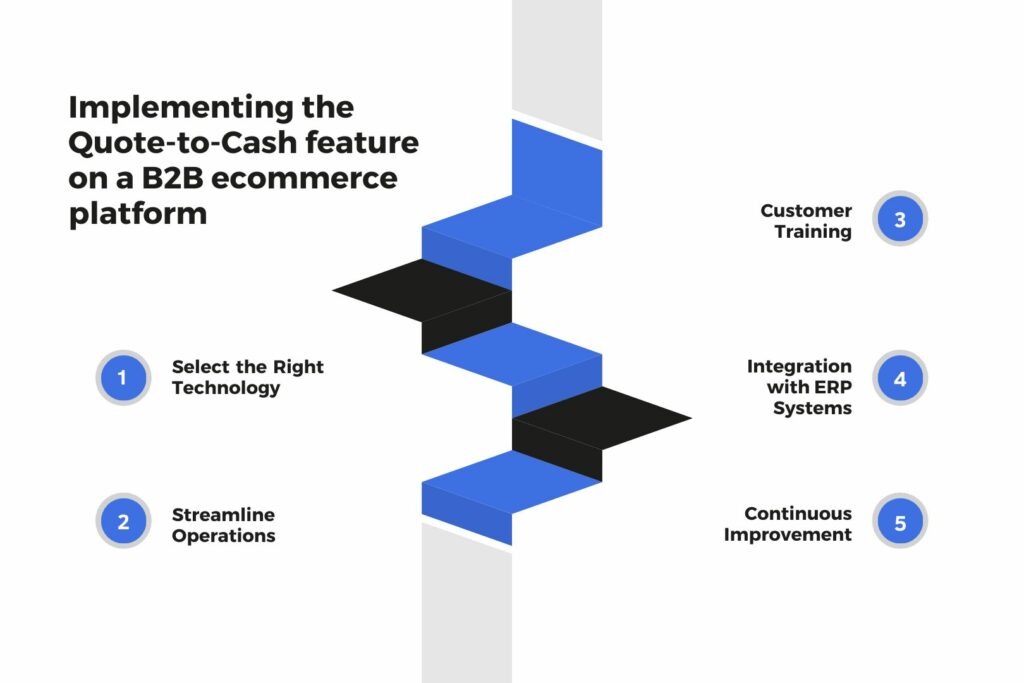 To successfully implement Quote to Cash B2B ecommerce, consider the following steps: 
Select the Right Technology:

Invest in an ecommerce platform that can seamlessly handle the entire Quote to Cash process. Look for features like quote generation, negotiation tools, inventory management, and integrated payment processing.

Streamline Operations:

Review and optimize your internal processes to ensure they align with the Quote to Cash framework. This might involve updating your inventory management, order fulfillment, and invoicing procedures.

Customer Training:

Educate your customers on how to navigate your B2B ecommerce platform. Make sure they understand how to request quotes, place orders, and make payments.

Integration with ERP Systems:

Integrating your Quote to Cash B2B ecommerce platform with your ERP (Enterprise Resource Planning) system can ensure seamless data flow and real-time updates.

Continuous Improvement

: Regularly analyze data and customer feedback to identify areas for improvement within your Quote to Cash process. Technology and customer preferences evolve, so staying agile is key.
Quote to Cash B2B ecommerce is a vital component of modern business operations. It ensures that the entire sales process, from the initial quote to the final cash transaction, runs smoothly and efficiently. Embracing Quote to Cash not only enhances the customer experience but also improves operational efficiency and competitiveness in the ever-evolving B2B landscape. So, if you're in the B2B space, it's time to consider how Quote to Cash can transform your business. At Cloudfy we are constantly looking to innovate our B2B ecommerce offering and providing our customers with a Q2C solution is part of this. 
At Cloudfy we are constantly looking to innovate our B2B ecommerce offering and providing our customers with a Q2C solution is part of this.
To learn more about how Quote to Cash B2B ecommerce can improve your online business, contact us now to request your free demo.