You can elevate your business to business (B2B) operations to a new level with ecommerce automation. You'll achieve more with your existing resources and improve inventory management, order processing and customer satisfaction. With better efficiency and accuracy your business can scale and grow more easily. 
If you're currently entering purchase orders manually you'll know that errors can lead to delays, returns and dissatisfied customers. Automation improves accuracy and speeds up processes, saving you time and improving customer service. Your team can focus on new sales opportunities instead of complaints, returns and refunds. 
Stay ahead of your competitors and take full advantage of the potential of B2B ecommerce automation with our comprehensive guide. 
Cloudfy's B2B Ecommerce Automation
Cloudfy's B2B ecommerce automation features minimize repetitive tasks, streamlining and simplifying order management, inventory control, and pricing. You can focus on growing your business and providing exceptional customer service.
Your customers can place their purchase orders through your Cloudfy B2B ecommerce site. They can use the customer ordering app for anywhere, anytime self-service. Alternatively, a member of your sales team can place an order on their behalf using the sales rep app. Their order is sent directly to your integrated enterprise (ERP) system. There's no risk of misplacing it or inaccurate records.
For your complex product configurations, Cloudfy's enhanced configure, price, quote (CPQ) product builder automates quotes and generates fast, accurate pricing.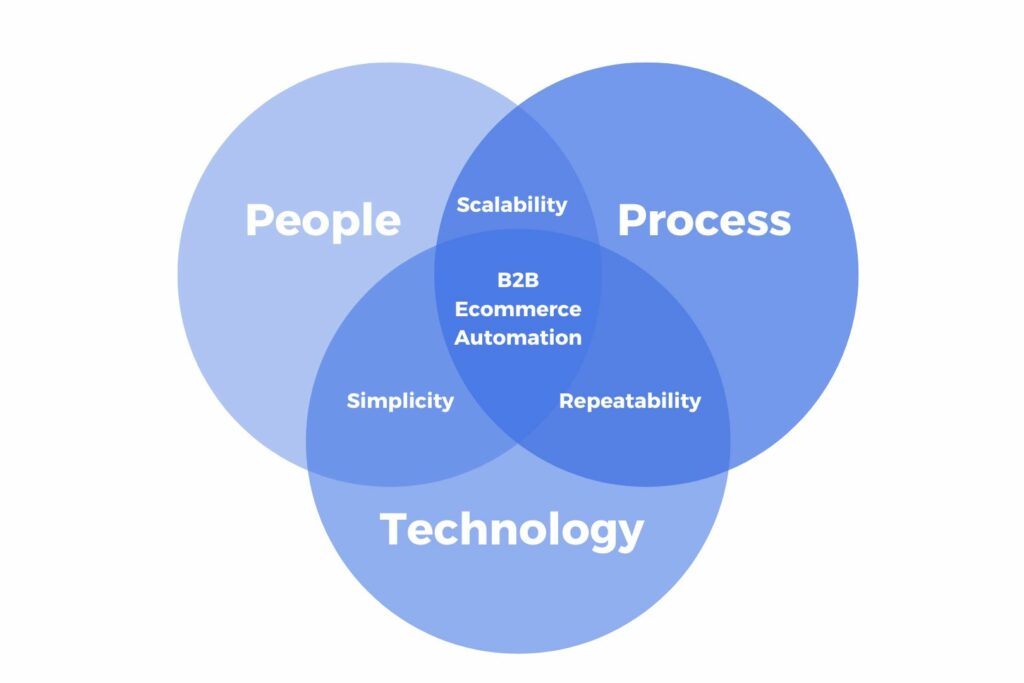 New technology can simplify complex B2B sales. Sales automation can change the way your business operates, helping to generate traffic, convert leads, and maintain repeat business. Automated processes improve data collection and management, transaction monitoring and tracking, data sharing and customer communication. 
Implementing automation means you can make the best use of your resources and free up time to focus on your business growth strategy. 
End-to-end automation of business processes can include pre-set triggers with authentication and validation at source for all your key data. Operations are streamlined when business rules are consistently applied to workflows, tasks, and decisions. Integration of key applications and systems ensures your automation solutions are optimized and tailored to your B2B needs. Every aspect of your business becomes more transparent and easier to track and monitor. You'll improve accountability and visibility too.
How to automate and elevate your B2B operations?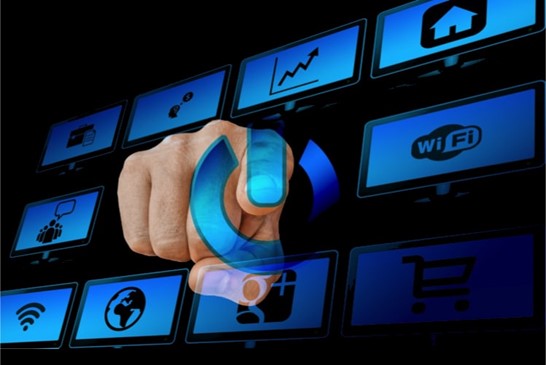 It makes good business sense to reduce the amount of time your teams spend on simple and repetitive tasks. You'll maximize efficiency, minimize errors and streamline processes. Combined with Cloudfy's powerful purpose designed B2B ecommerce platform you'll have the tools you need to scale and grow. 
You can manage customer accounts more efficiently, provide buyer-specific catalogs, and support fast and accurate CPQ processes. Depending on your market sector you can also add third-party extensions for a fully bespoke solution. 
Effectively combined with other business processes your organization can become fully customer-centric.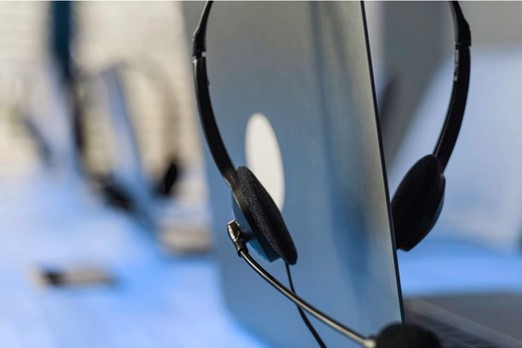 Connecting your B2B ecommerce website with your customer relationship management (CRM) system makes it easier and cheaper to build long term loyalty. Simplified and automated sales processes throughout your customers' lifecycles improve engagement. You can manage all your contacts and communication with your customers in one place. Sales increase when you create bespoke customer groups with specific views of your product catalog and customized workflows. It's fast and efficient to tailor product visibility, promotions, pricing, and content to meet your customers' needs.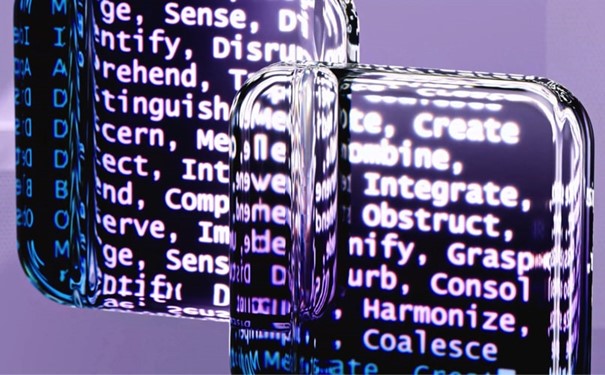 B2B buyers are busy people. You can save them time and encourage repeat orders with automated reminders for their regular purchases. If they are stock-sensitive you can send mobile push notifications and email alerts when their items are back in stock. You'll reduce enquiries, streamline reordering, and improve efficiency.  
You can even automatically add favorite items to customers' baskets with the right discounts already applied. All your customers have to do is review and approve their order and make their payment. 
While you're giving customers exceptional user experiences you can also automate new lead generation. You can align the goals of your marketing and sales teams, build relationships and qualify leads. Automation can simplify contact list segmentation, sales funnel development, campaign personalization and multi-channel marketing. 
You can automate email marketing, generate sales from abandoned checkouts, and send special promotions and offers to new customers.  
Automated chatbots assisted by artificial intelligence (AI) can help customers find what they want. If human assistance is needed they can pass on enquiries and learn from the results. 
B2B buying is complex. Automatically collecting and analysing data about online visitor behavior generates valuable business insights. These help you plan for the future and optimize your business processes. You can test and refine your marketing and automatically track your key performance indicators in near real time. Social media and online advertising is easy to retarget automatically, sending specific updates and information and maintain awareness to encourage purchases.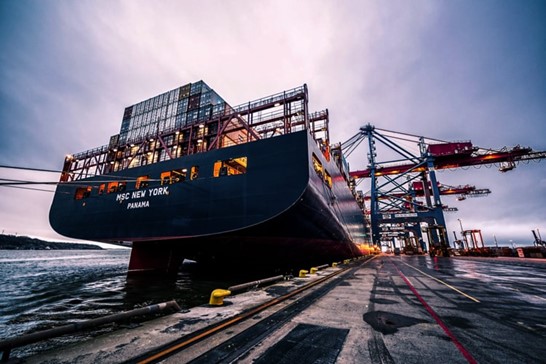 Inventory management is a key part of complex B2B operations. A reliable and user-friendly inventory management system helps to maintain your supply chain. You'll have clear visibility of your stock and can keep your customers informed. Automation allows you to adjust counts easily, set thresholds, and enable back-ordering. Showing your customers color-coded inventory indicators means they can always see stock status, so they won't be disappointed.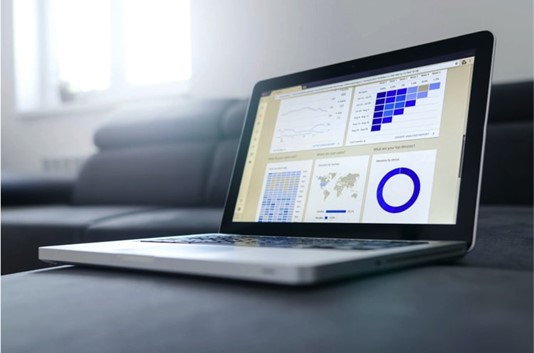 Automation streamlines pricing for bespoke products and complex shipping. When customers request a quote online pricing goes straight to their basket. An automated message lets them know their order is ready for approval. Order entry, invoicing, and shipping are all faster and simpler. Your orders will comply with company's policies and regulatory requirements. You'll also have accurate documentation for auditing purposes.
With automated delivery information multiple delivery options are easily managed. Minimum order values, free delivery thresholds, postcode-based charges, and next-day deliveries are all set from an easy-to-use dashboard. 
Book a free Cloudfy demonstration to find out how you can elevate your business with B2B ecommerce automation. 
Frequently Asked Questions
What is B2B Ecommerce Automation and why is it important?
B2B Ecommerce Automation is the use of technology to streamline and enhance business-to-business operations. It's crucial for improving efficiency, reducing errors, and scaling your business. With automation, you can manage your inventory, orders, and customer satisfaction more effectively. 
How can automation benefit my B2B business?
Automation can benefit your B2B business by reducing manual tasks, minimizing errors, and freeing up time for strategic growth. It also improves customer service, data collection, and communication. 
What role does Cloudfy play in B2B Ecommerce Automation?
Cloudfy offers a powerful purpose-designed B2B ecommerce platform that can be combined with automation to help you scale and grow your business. It enables efficient customer account management, buyer-specific catalogs, and more.
How can automation improve customer relationships in B2B Ecommerce?
Automation can help build long-term customer loyalty by simplifying and automating sales processes throughout the customer lifecycle. You can create bespoke customer groups, tailor product visibility, and provide personalized content, resulting in increased sales and engagement.
What are the benefits of automating marketing in B2B Ecommerce?
Automation can simplify lead generation, align marketing and sales goals, and improve campaign personalization. It can also help with email marketing, abandoned checkout recovery, and delivering special promotions to new customers.
What role does automation play in inventory control and order processing in B2B Ecommerce?
Automation enhances inventory management by providing clear visibility of stock and enabling easy adjustments and back-ordering. It streamlines order processing, pricing, invoicing, and shipping, ensuring compliance with policies and regulations.