Cloudfy is redefining ecommerce. Tailor made for wholesalers, distributors, importers and manufacturer's needs, Cloudfy's rich suite of functionality is designed to make trading online a whole lot more affordable and hassle free for companies while offering their trade audience a seamless buying experience online, every time.
With the democratization of ecommerce, the lines between B2B and D2C experiences are becoming more converged than ever before. Trade buyers in reality are consumers themselves and are seeking D2C like experiences when interacting with their suppliers.  They are now more demanding when it comes to speed, search and the user experience. They want choice when it comes to how they can communicate with a business, payment options from proforma to on credit and a wider variety of delivery options.  Trade buyers are also responsive to marketing initiatives online.
With many years of ecommerce experience, Cloudfy offers a best in breed ecommerce platform that enables a trade business to deliver on all of these increasing demands and so much more.
The Art of Effective Merchandising
Merchandising is the art of presenting your products in a way that not only attracts customers but also guides them towards making a purchase. It's about curating your online store in a manner that makes it easy for customers to find what they're looking for, discover new products, and ultimately complete the checkout process. 
Cloudfy's Merchandising Capabilities
Cloudfy recognizes the importance of effective merchandising and offers a range of capabilities to help businesses optimize their online stores: 
Cloudfy allows you to create dynamic product catalogs that can be easily organized, categorized, and updated. This flexibility enables you to swiftly adapt to changing trends and customer preferences, ensuring that your product offerings are always aligned with demand.
The power of product recommendations should not be underestimated. Cloudfy's merchandising capabilities include the ability to display related products, upsell items, and show customers what others have bought, enhancing cross-selling opportunities and encouraging larger cart sizes.
Search and Filter Options
Cloudfy enables you to enhance the search and filtering options on your site. This empowers customers to refine their search results based on criteria such as price range, brand, size, color, and more, making the shopping process smoother and more personalized.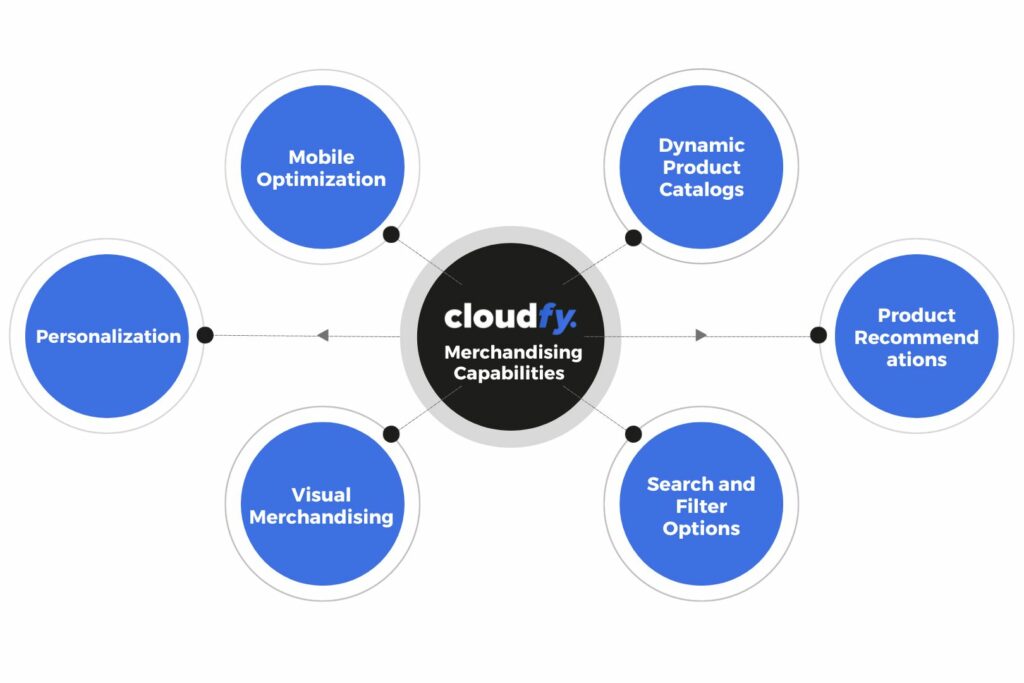 Visual merchandising is about using images, videos, and graphics to tell a story and showcase your products. Cloudfy enables businesses to create visually appealing product displays, banners, and carousels that capture attention and guide customers towards featured products.
Cloudfy's robust analytics and customer insights tools allow you to understand individual customer preferences and behaviors. Leveraging this data, you can personalize the shopping experience by showing customers products that are most relevant to their interests.
Given the rise in mobile shopping, it's crucial to ensure that your merchandising strategy is optimized for mobile devices. Cloudfy's responsive design ensures that your product displays look great and function seamlessly on smartphones and tablets.
Powerful Promotions for Increased Sales
Promotions are a tried-and-true method for driving sales and attracting new customers. Whether it's a discount, a special offer, or a limited-time deal, promotions can create a sense of urgency and excitement that motivates customers to make a purchase.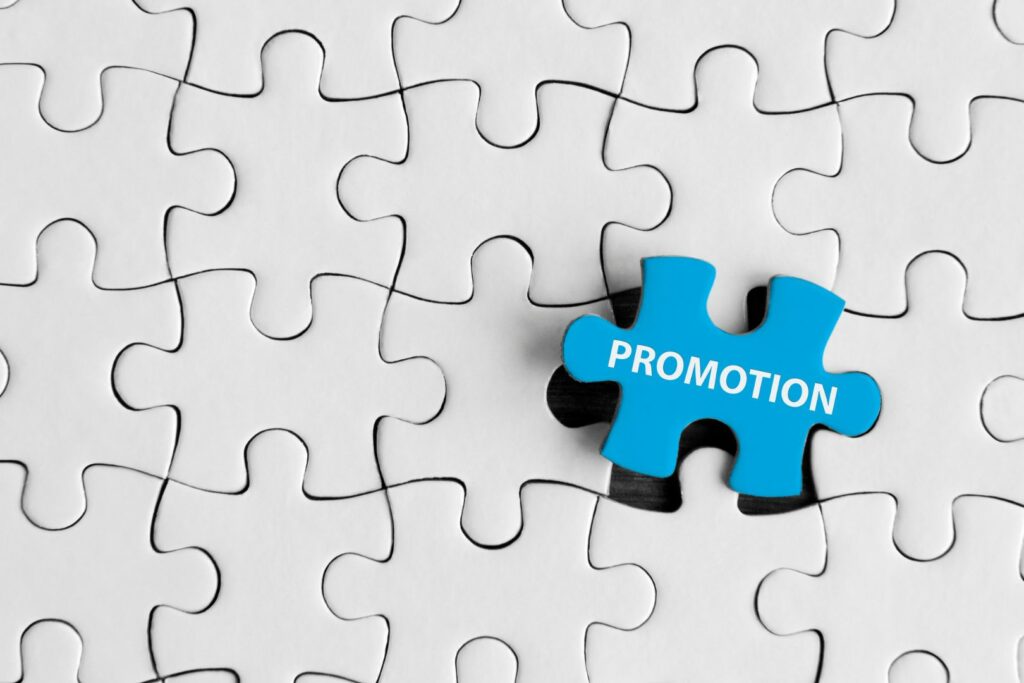 Cloudfy's Promotions Capabilities
Cloudfy equips businesses with powerful promotions capabilities to help boost sales and engagement: 
Discount Codes and Coupons :

Cloudfy allows you to create and manage discount codes and coupons, which customers can apply during checkout to receive discounts on their purchases. This feature is highly effective in incentivizing customers to complete their transactions.

Flash Sales and Limited-Time Offers :

Creating a sense of urgency is a powerful sales tactic. Cloudfy enables you to set up flash sales and limited-time offers, encouraging customers to take action quickly before the opportunity expires.

Bundle and Package Deals :

Bundling related products together at a discounted price can entice customers to purchase more items. Cloudfy's promotions capabilities allow you to create bundle and package deals that showcase the value of buying multiple items together.

Free Shipping :

Offering free shipping thresholds can motivate customers to add more items to their carts to qualify for the promotion. Cloudfy allows you to set up free shipping based on order value or specific products.

Loyalty Programs :

Rewarding loyal customers can lead to repeat business. Cloudfy supports loyalty programs where customers earn points for their purchases, which they can later redeem for discounts or rewards.

Personalized Promotions :

Cloudfy's customer insights enable you to tailor promotions to individual customers. For example, you can offer exclusive discounts to customers based on their purchase history or preferences, enhancing the personalization of your promotions.
Boosting Sales with Cloudfy's Dynamic Duo
The combination of effective merchandising and strategic promotions forms a dynamic duo that can significantly impact your online sales. When implemented cohesively, they create a shopping experience that engages customers, meets their needs, and compels them to make a purchase. 
Cloudfy goes far beyond being just a 24/7 self-service ordering portal for busy trade buyers. The rich suite of Merchandising and Promotions functionality enables a wholesaler or manufacturer to create new sales opportunities through the use of voucher codes, discounts and special offers which enables a business to step outside their normal pricing rules, enabling a business to market tactically when needed.
Cloudfy's Abandoned Basket Email functionality reminds customers they have left something before checkout. Cloudfy also offers an inbuilt email marketing and blog function for proactive communication directly with customers alternatively there is integration with 3rd party solutions such as Mailchimp, Dotdigital or Bronto available.
For B2B companies who find their online business also attracts consumers, the Find a Retailer functionality is a handy addition to not only point your consumers to those retailers who stock your product, but is also appreciated by your trade customers who will value the visibility of their business and the potential increase in foot traffic that may bring.
Cloudfy offers Timed Promotions and Offers, which enables promotions to appear on your ecommerce site at set times, or against certain criteria. For example, if a trade customer's basket order value exceed £1000, a free item can be added to the basket, a discount code offered or the entire order can be discounted by 10%.  This type of tactical flexibility can bring excellent improvements to average order values and foster more loyalty through the added benefit of such rewards.
Last but not least, is the Special Offers and Sale Category functionality.  Our insights from our 10 years' experience working with B2B's show the need for unique categories that may span the following types of offerings; new seasonal lines throughout the year, end of line stock clearance, special editions and pre-season special offers to name a few of the more common ones.  Cloudfy has built into its standard features the ability to quickly and easily set up special categories designed especially for this purpose.  Products can be tagged with 'Offer' attribute set are listed in these categories to enable busy trade buyers to easily browse and add to basket from a range of special categories.
Keen to learn more about Cloudfy's extensive features?  Call our dedicated team of ecommerce advisors who on hand and happy to help you understand the power of Cloudfy.
Interested? Contact us today to setup a free demo.
What is merchandising in ecommerce?
Merchandising in ecommerce refers to the strategic presentation and arrangement of products on your online store. It involves curating product displays, organizing catalogs, recommending related items, and creating an overall visually appealing and user-friendly shopping experience.
How does Cloudfy's merchandising help boost sales?
Cloudfy's merchandising capabilities empower businesses to optimize their product catalogs, offer personalized recommendations, enhance search and filtering options, and create visually captivating displays. By guiding customers towards products they're likely to be interested in, businesses can increase conversions and boost sales.
What are promotions in ecommerce?
Promotions in ecommerce involve offering discounts, special offers, or incentives to encourage customers to make a purchase. These promotions create a sense of urgency and excitement, motivating customers to take action and complete their transactions.
How can Cloudfy's promotions capabilities benefit my business?
Cloudfy's promotions capabilities enable businesses to create and manage discount codes, set up flash sales, bundle deals, offer free shipping, and implement loyalty programs. These promotions attract customers, drive sales, and enhance customer loyalty, ultimately contributing to revenue growth. 
Can Cloudfy help with personalized promotions?
Absolutely! Cloudfy's customer insights tools allow businesses to tailor promotions to individual customer preferences and behaviors. This means you can offer personalized discounts and offers based on a customer's purchase history, interests, and interactions, making promotions more relevant and engaging.